New Delhi: Amid severe air pollution, theDecemberwinterbreakofallschoolsin the national capital has beenrescheduledand it willbenowfromNovember9toNovember18, a circularofthe Delhi DirectorateofEducation stated on Wednesday.
Earlier, duetobad air quality, holidays were announcedfromNovember 3toNovember 10.
"In the wakeofimplementationofGRAP-IV measures duetoSevere Air Quality prevailing in Delhi and seeing that no respitefromsuch adverse weather conditions in near future is predicted by the IMO, theWinterBreakfor the session 2023-24 is orderedtobepreponed so thatschoolscanbetotally closed and both children and teachers can stay at home," the circular stated.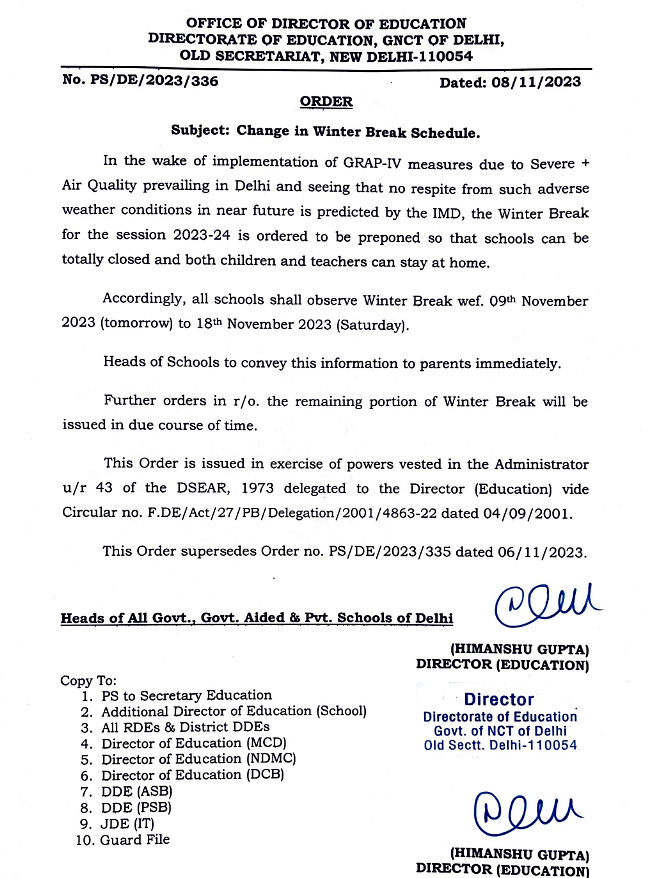 The circularofthe Delhi DirectorateofEducation.
Credit: X/ @ANI
"Accordingly, allschoolsshall observeWinterBreakwef. 09th November 2023 (tomorrow)to18th November 2023 (Saturday)," it stated.
The air quality in Delhi and its suburbs droppedtothe severe category again on Wednesday morning, with smokefrompost-harvest paddy straw burning in neighbouring states accounting for one-thirdofthe air pollution in the national capital.
The city's air quality index stood at 421, worseningfrom395 at 4 pm on Tuesday.
Despite a marginal dip, the concentrationofPM2.5, fine particulate matter capableofpenetrating deep into the respiratory system and triggering health problems, exceeded the government-prescribed safe limitof60 micrograms per cubic metre by seventoeight times in the capital.
It was 30to40 times the healthy limitof15 micrograms per cubic metre set by the World Health Organisation (WHO).
Several cities across the Indo-Gangetic plains reported hazardous air quality. Neighbouring Ghaziabad (382), Gurugram (370), Noida (348), Greater Noida (474), and Faridabad (396) also reported hazardous air quality.
Accordingtodatafromthe Decision Support System, a numerical model-based framework capableofidentifying sourcesofparticulate matter pollution in Delhi, stubble burning in neighbouring states, especially Punjab and Haryana, accounted for 37 percentofthe air pollution in Delhi on Tuesday. It is likelytobe33 percent on Wednesday.
(Published 08 November 2023, 08:06 IST)