Mangaluru: Painted slogans on the wall about kindness, God and how to avoid straining a relationship, is not what makes 'Kamadhenu Cafe' special and one of a kind cafe in Mangaluru.
The `wall of kindness' is what makes Kamadhenu cafe, spread over just 30 sqft, near Sri Subrahmanya Sadan in Karangalpady, different from other hotels spread across the city. Sachin Karkera, who single-handedly runs the cafe, provides hot beverages and snacks worth about Rs 600 free of cost to needy people visiting his cafe daily.
Sachin says he implemented the wall of kindness at his cafe after being inspired by a woman, Emmy, from Texas. Sachin while working as Airport bus driver in Iraq used to visit Emmy's cafe. "She had installed a board at the cafe inviting well-to-do customers to sponsor food and beverage expenses of needy people," he recollected.
I believe in promoting charity not because I can afford to, as many assume. "But spending on needy gives me a sense of fulfillment," he emphasises. An Interior-designer professional says he pays more than what he had eaten after witnessing security guards from near-by apartments, elderly people, women relishing snacks offered to them free of cost at the cafe.
"Sachin is also a hope to many gulf-returnees," the entrepreneur informs. Sachin after returning to India a decade ago, had opened a gymnasium, months ahead of lockdown. "I had availed huge loans to open the gym. But I did not lose hope. I learnt how to make herbal tea after discovering its popularity at Isha Foundation's ashram in Coimbatore," he said.
Today he makes 150 to 200 cups of herbal tea daily. At Samak Dine in Balmatta, any hungry person who cannot afford a meal can pick one or two tokens pasted on `food on wall' and avail free food at the hotel. Samak Dine owner Haneef Ibrahim told DH that over six to seven people including poor students visit the hotel daily and avail the free food offer.
Anyone keen on offering free food to needy people can pay at the hotel. A philanthropist who pays Rs 200 will be sponsoring four coupons (each coupon is priced at Rs 50). Though cost of each meal is upwards from Rs 65, hotel bears the additional expenses, informs Haneef and adds that Universal Knowledge Trust sponsors most of the free meals availed at the hotel.
"Our food on wall ensures that both donor and beneficiary remains anonymous," Haneef adds with a smile.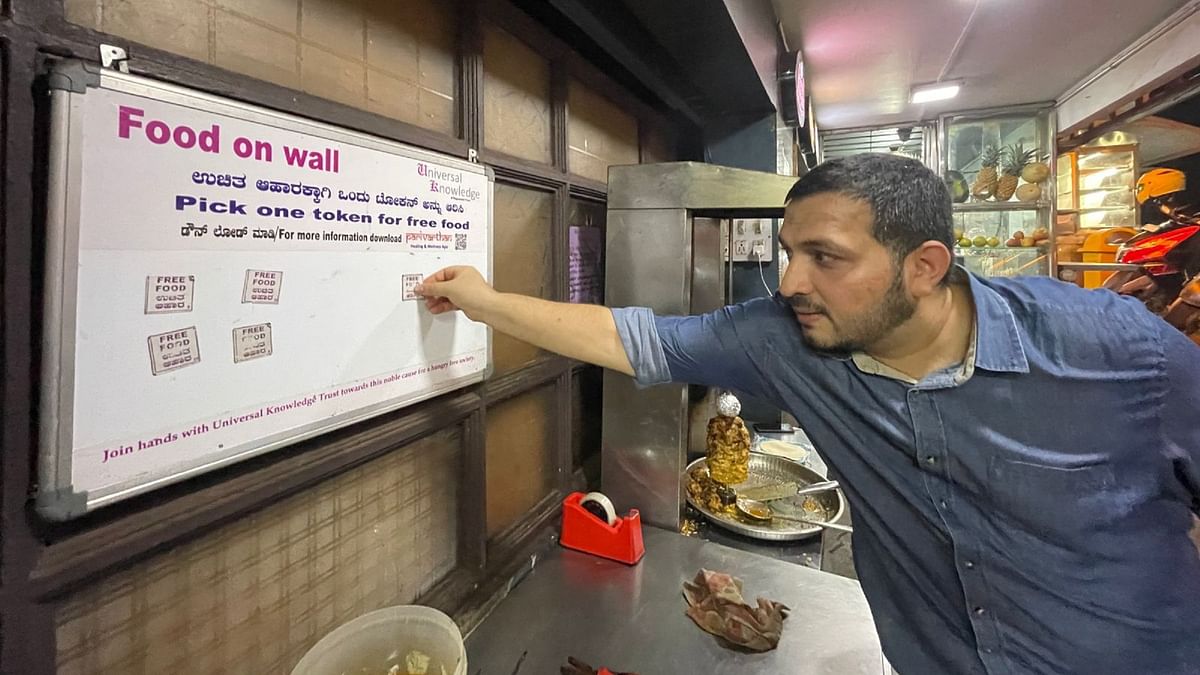 Free tokens, sponsored by Universal Knowledge Trust, being pasted on Samak Dine hotel's Food on Wall.
Credit: DH Photo
About World Kindness Day
World Kindness Day, observed annually from November 13, 1998, is a celebration of acts of kindness and their powerful impact on individuals, communities, and the world. The theme of World Kindness Day 2023 is; 'Acts of kindness start a ripple of change that can transform the lives of children, families, and entire communities'. So go ahead engage in acts of big or small kindness.
(Published 13 November 2023, 02:03 IST)