With the Pixel 7, Google came back stronger to beat all rivals in terms of photography in 2022. This year, the Pixel 8 series has been upgraded with an even better camera and the device is powered by the next-gen Tensor G3 silicon, faster-charging capability and more.
I spent a little over two weeks with the Pixel 8 and here are my thoughts on Google's latest smartphone.
Design, build quality and display
Google has retained the core design elements of the Pixel 7 for the Pixel 8 series. You can see how similar they are and if you look closer, there are subtle changes in dimensions (height and width). Also, the new model is lighter in weight but thicker than the predecessor.
And, the camera module in the trademark metallic visor on the back of the Pixel 8 is bigger compared to the Pixel 7.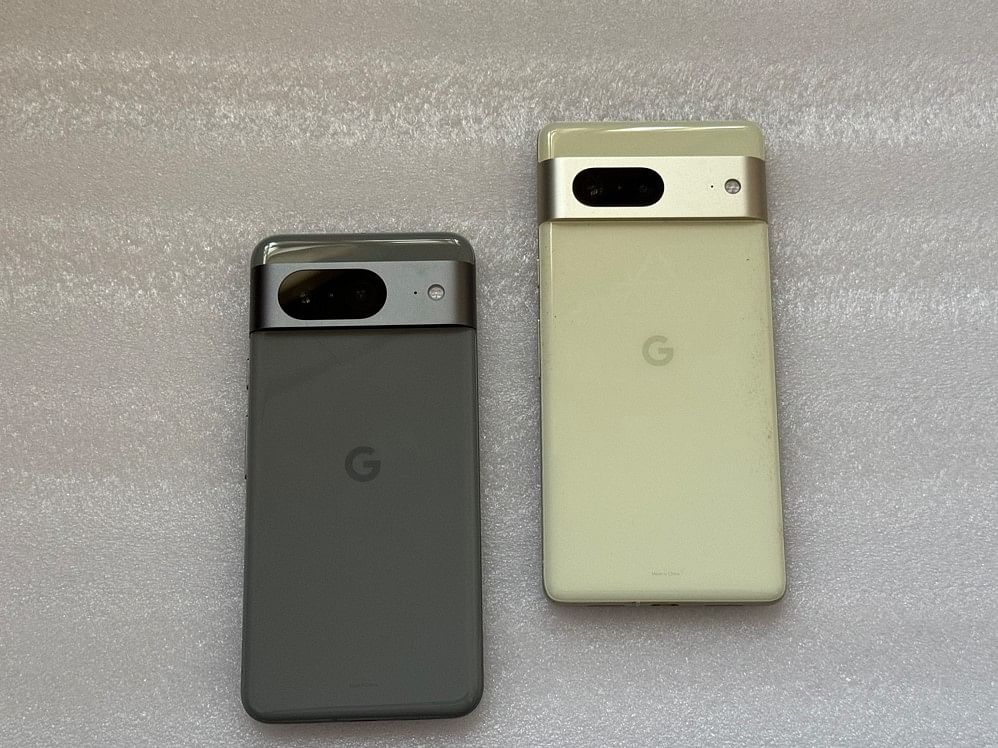 Google Pixel 8 (left) Pixel 7 (right)
Credit: DH Photo/KVN Rohit
The device's glass cover on the back beautifully blends with the metallic rail and the colour scheme too is great. The sombre Obsidian colour variant looks prettier to the eyes thanks to curvaceous corners and a glossy finish. The matte finish on the camera visor and rails around the edge adds value addition to the visual appeal.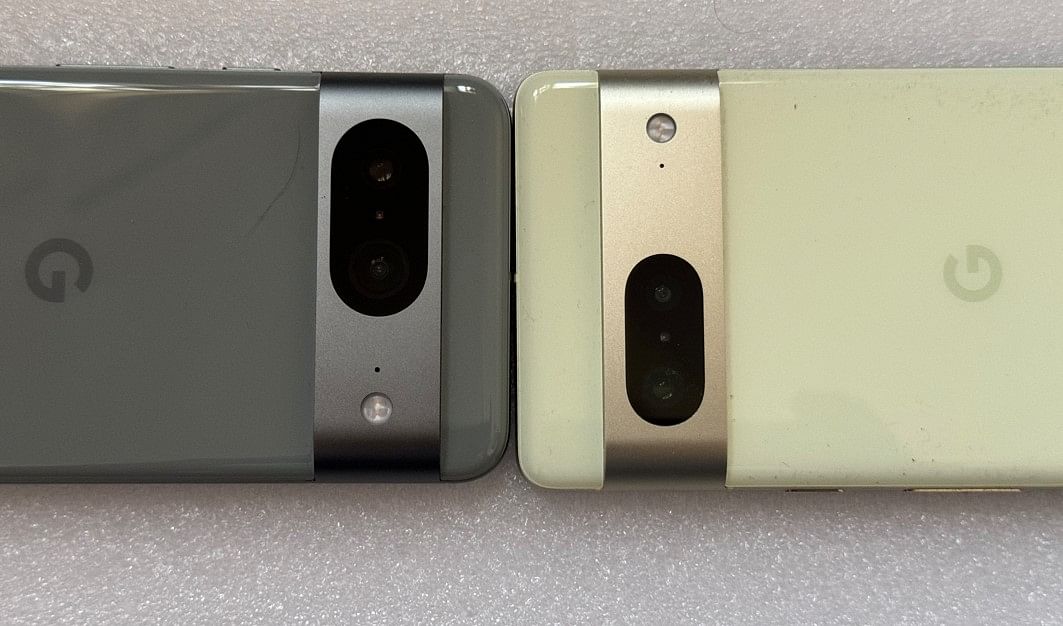 Google Pixel 8 (left) Pixel 7 (right)
Credit: DH Photo/KVN Rohit
Besides the Obsidian variant, Google offers the Pixel 8 in two other colours– Hazel and Rose.
Pixel 8 is not just a pretty phone, it is also eco-friendly. The aircraft-grade aluminium used in the phone is 100 per cent recycled. Even the glass and plastic used for the Pixel 8 (& 8 Pro) are said to be 100 per cent re-purposed.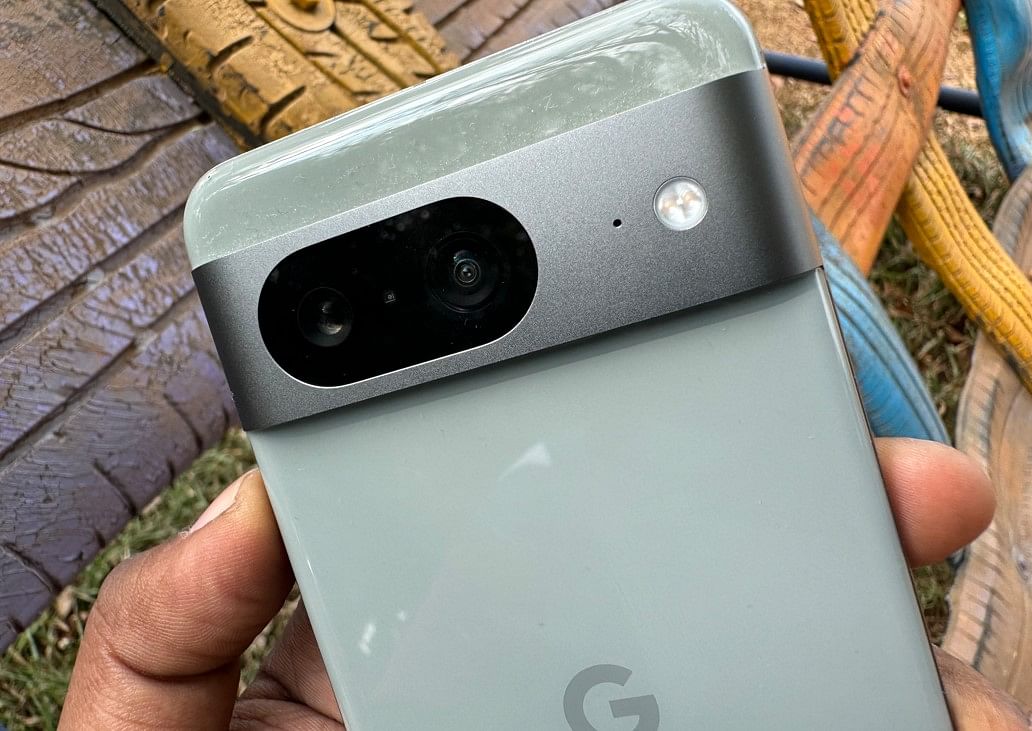 Google Pixel 8.
Credit: DH Photo/KVN Rohit
The latest Google phone is built to last longer too. The display is protected by Corning's Gorilla Glass Victus shield and can resist scratches from coins or pens when placed close to each other in a pant pocket.
Add to that, it also comes with IP68 rating, meaning the device can survice any accidental splashes of water or even moderate rain (for a few minutes) and even a dip in the swimming pool for up to 1.5 metres (five feet) for close to 30 minutes.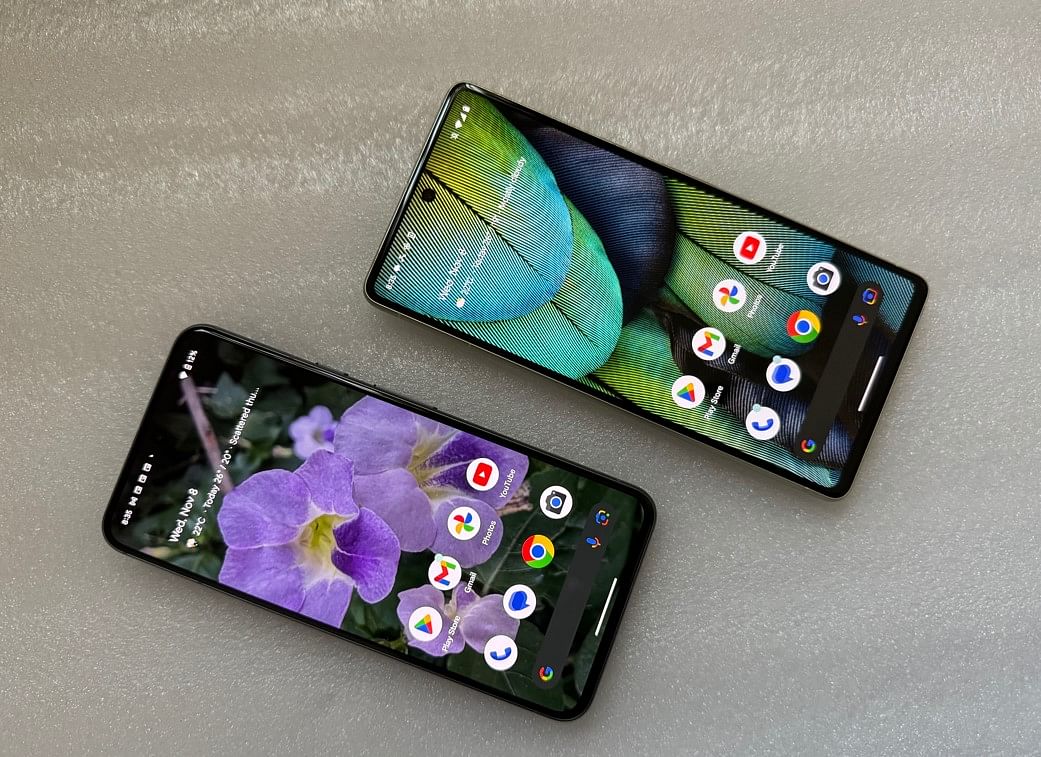 Google Pixel 8 (bottom) Pixel 7 (top)
Credit: DH Photo/KVN Rohit
On the front, it houses a 6.2-inch 6.2-inch full HD+ OLED display. Google likes to call it a 'Super Actua display'. It is the brightest screen on a pixel phone to date and as advertised, it is really good.
It can support variable refresh rate (60Hz-120Hz) and peak brightness of 2,000 nits,
At peak brightness, you can read the news or scroll through social media apps without having to squint your eyes when outdoors.
Also, when watching high-quality nature docuseries, the colours particularly those of birds of paradise look vibrant. Even while watching movies such as the KGF series or The Batman trilogy (by Christopher Nolan) with dark backgrounds, you will appreciate how good the display is on the Pixel 8 series.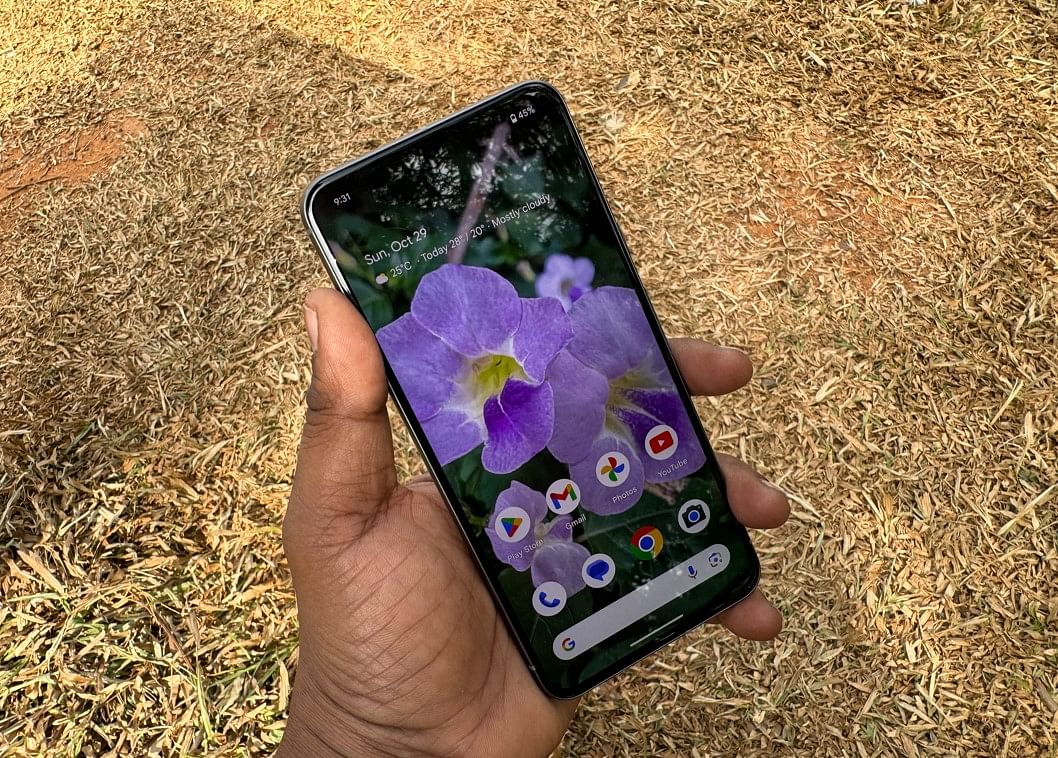 Google Pixel 8.
Credit: DH Photo/KVN Rohit
The speakers too, they are great and easily liven up any regular room of a house with good music and there is less distortion even with volume put to max.
As far as the on-screen fingerprint sensor is concerned, it works fine. But, you have to keep the finger dry and clean for it avoid false rejection.
Performance
As noted earlier, Pixel 8 (& 8 Pro) come with 64-bit Tensor G3 chipset with 8GB LPDDR5X RAM and is available just 128GB storage option in India.
As advertised, the Tensor G3 sensor does great with better on-device machine learning capabilities to power live translations, and better and faster response from Google Assistant to user queries.
Even with advanced computational photography editing tools such as magic eraser, audio eraser and the best take, the Pixel phone works like magic (more on that later).
For journalists like me, Pixel 8 and even previous iterations, are amazing at live translations and transcribing. Especially with the latter aspect, it saved me a lot of time in finishing an interview story. Previously, I used to take several hours to get the hang of the accent and words the person said.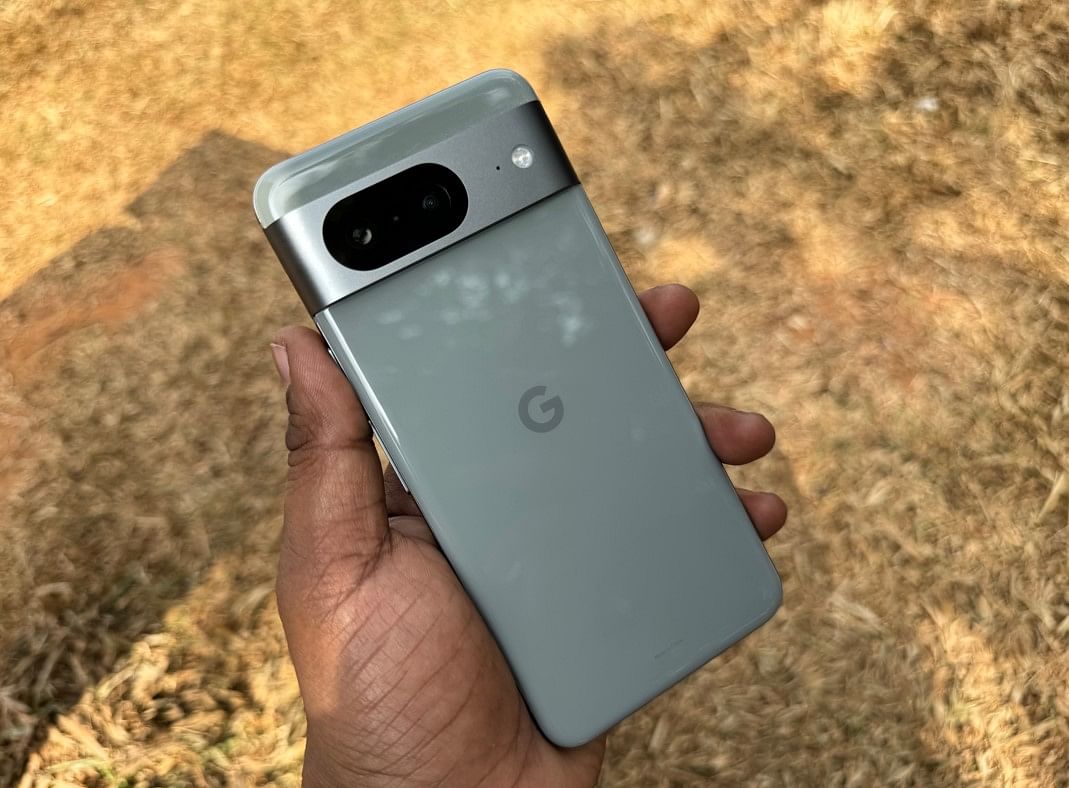 Google Pixel 8.
Credit: DH Photo/KVN Rohit
Pixel 8 was able to capture every minute pauses and the time stamps were even more helpful to edit the interview.
Thankfully with Tensor G3-powered Pixel 8's magical transcriber feature, I was able to finish the edited excerpts and publish the story in less than two hours.
However, Pixel 8 exhibits lag-ness and gets warmed easily while playing graphics-rich games. Also, while processing the images, it takes some time. But, it is worth the wait.
While doing day-to-day tasks, it just waltzed through the day without any issues.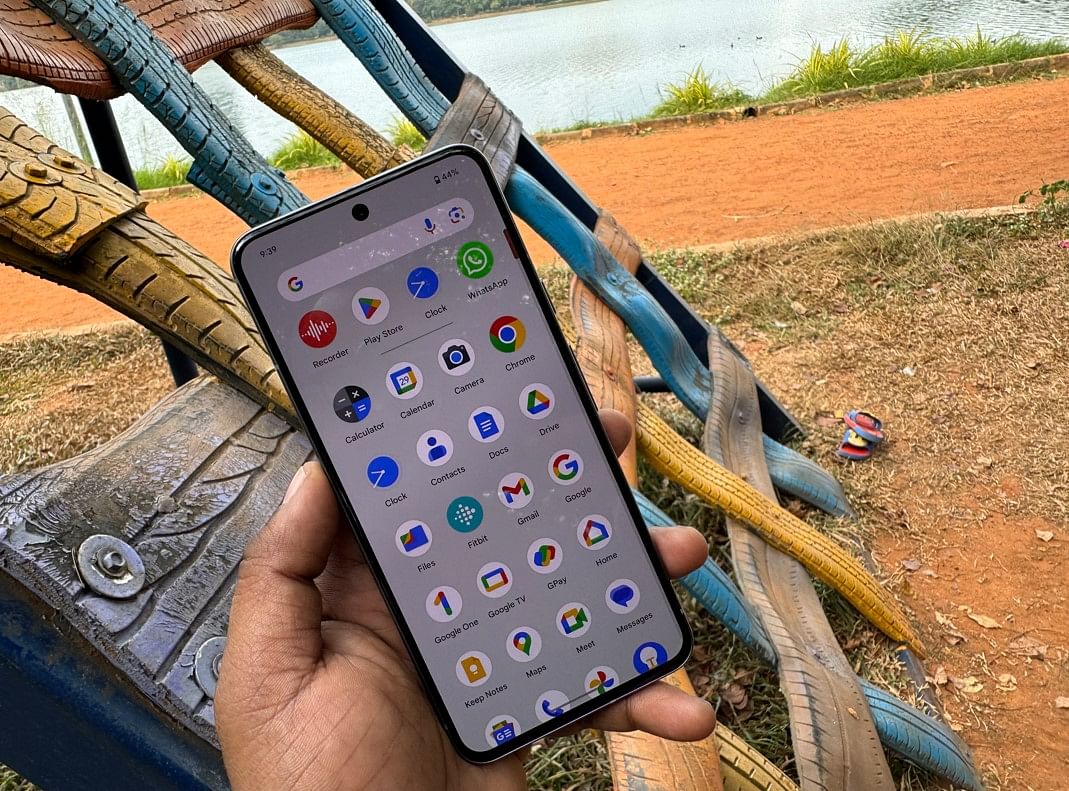 Google Pixel 8.
Credit: DH Photo/KVN Rohit
It runs on vanilla Android 14 and the interface is so clean, tailor-made for purists like me. There is no complication at all and no bloatware too. And, what's amazing is that Google is promising to offer seven years of OS updates; that's up to 2030. I am not sure people will hold on to a phone for more than three or four years, but this guarantee gives us hope, the after-sales service centres readily have spare parts of the device and there will be less waiting time.
As far as the battery life is concerned, the device under normal usage, can easily last a day, provided it is connected to Wi-Fi at home and the office. But, if you are out of the city and fully dependent on cellular data for multimedia and app usage all day, then, you need to have a power bank as a backup.
This year, the Pixel 8 supports 27W faster charging capability than the Pixel 7 (20W). Also, it supports 18W wireless charging and reverse charging.
Photography
The Pixel 8 features an all-new and bigger dual-camera module–50MP wide (1/1.3-inch Samsung GN2 sensor, LDAF, f/1.68) + 12MP ultra-wide sensor(125-degree FoV, Sony IMX386 sensor, f/2.2, macro option)– with OIS (Optical Image Stabilisation), EIS (Electronic Image Stabilisation) and LED flash on the rear side.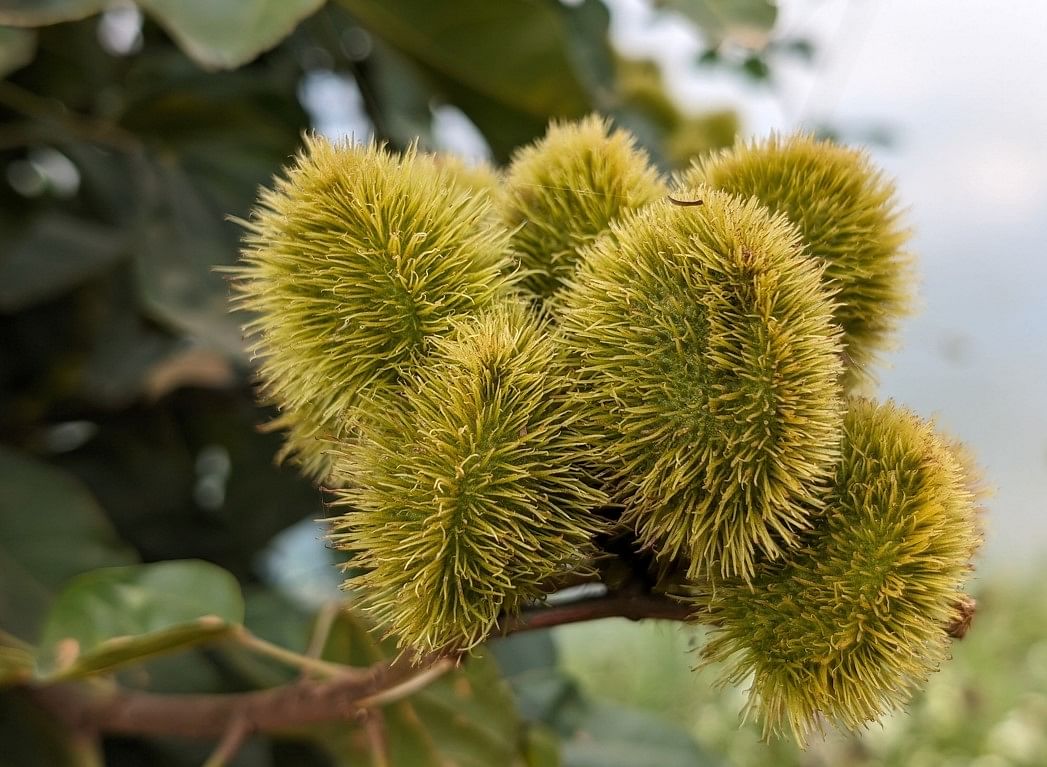 Camera sample of Google Pixel 8.
Credit: DH Photo/KVN Rohit
It takes fantastic pictures in all light conditions. I just state here straight off the bat that the Pixel 8 is the best among all the premium phones. Of course, the 8 Pro will be even better.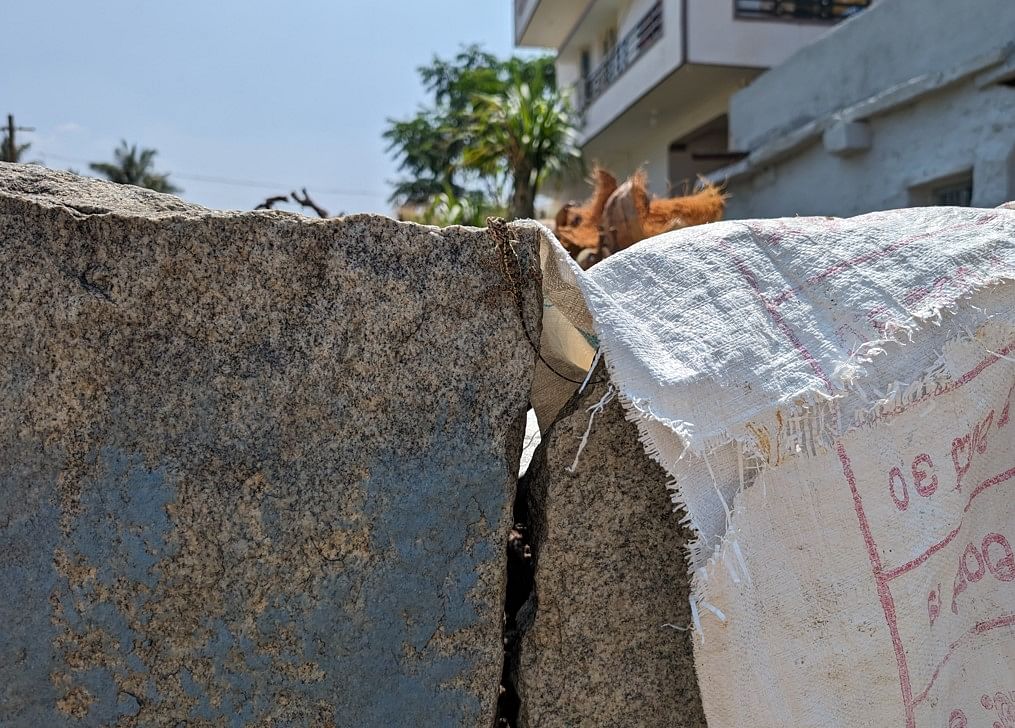 Camera sample of Google Pixel 8.
Credit: DH Photo/KVN Rohit
The Pixel 8 aces in terms of capturing the images with so much clarity and detail. For instance, this lizard with camouflage matching the granite colour is so well captured. Even when you zoom in on a big computer screen, there is hardly any noise.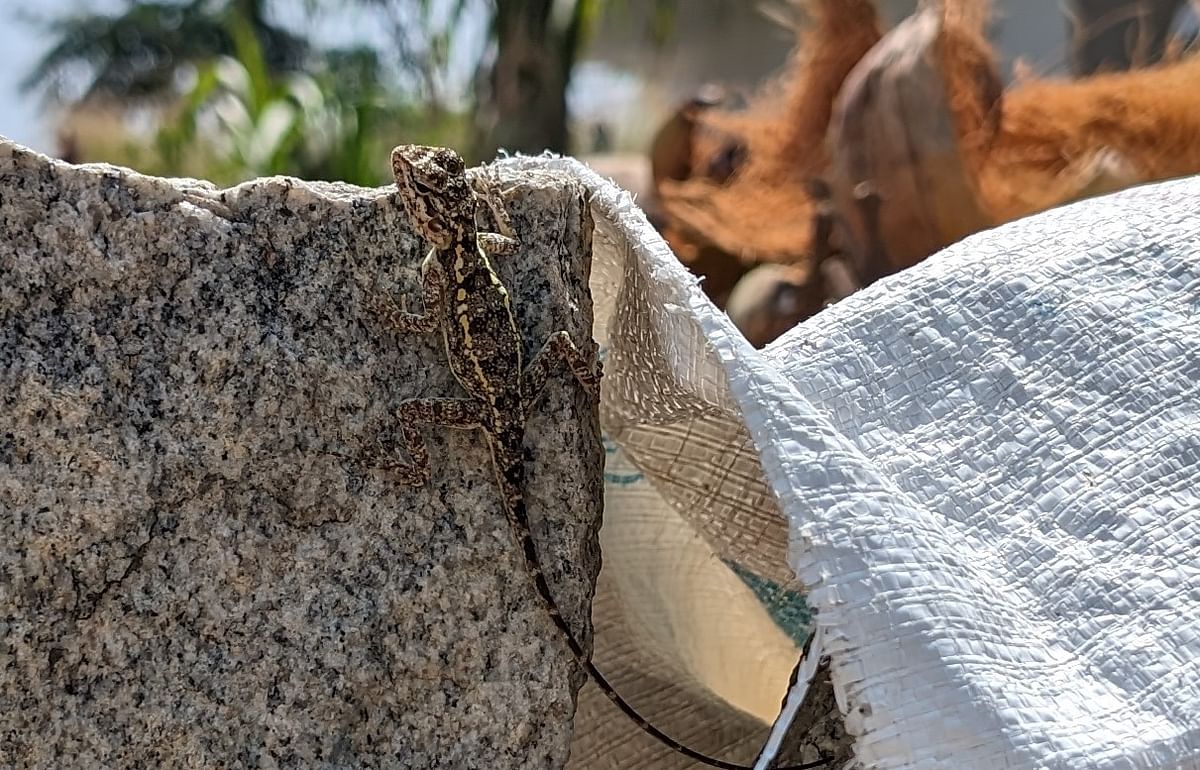 Camera sample of Google Pixel 8. With zoomed-in effect (on computer screen). There is hardly any noise at all.
Credit: DH Photo/KVN Rohit
Even at night, the lights of the top ceiling of the magnificent structure are captured with great finesse. I have seen some premium phones struggle to balance the light of the street lamp.
Also, with the Ultra-HDR feature, the photos in low light look great with rich colour, darker shadows, and there are brighter highlights on the subject.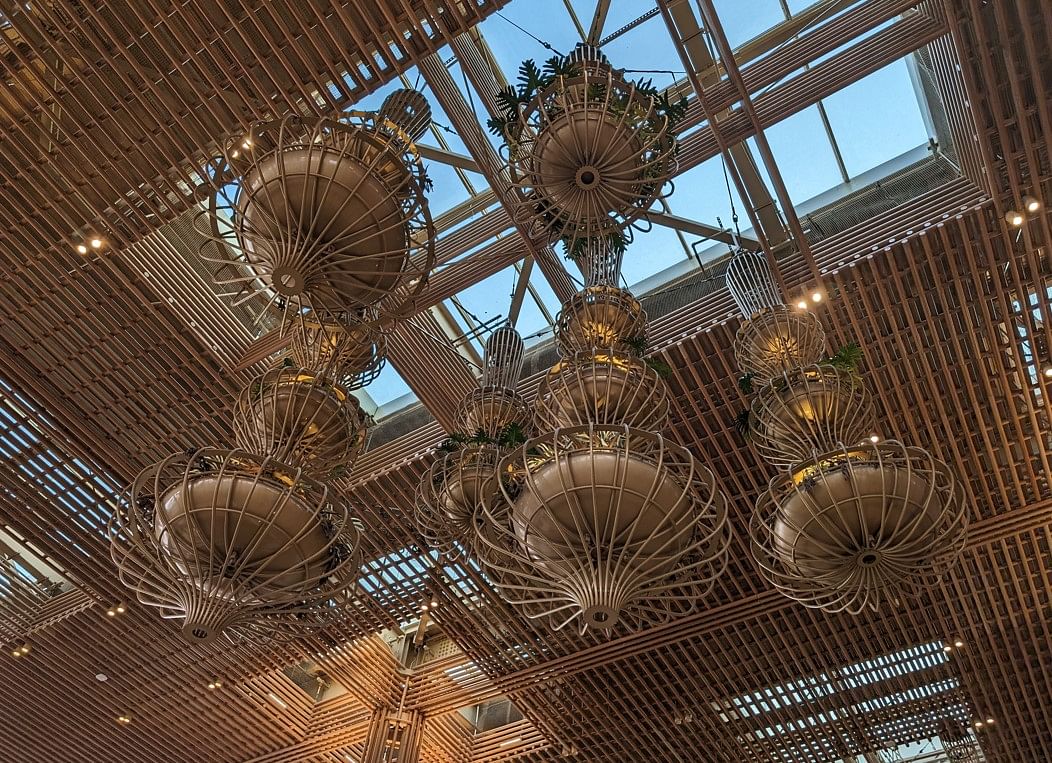 Camera sample of Google Pixel 8 captured indoors with limited lighting.
Credit: DH Photo/KVN Rohit
With wide-angle mode, the Pixel 8 manages to capture wide areas without any artificial bending of structures, to accommodate them within the frame. Also, the colours look natural.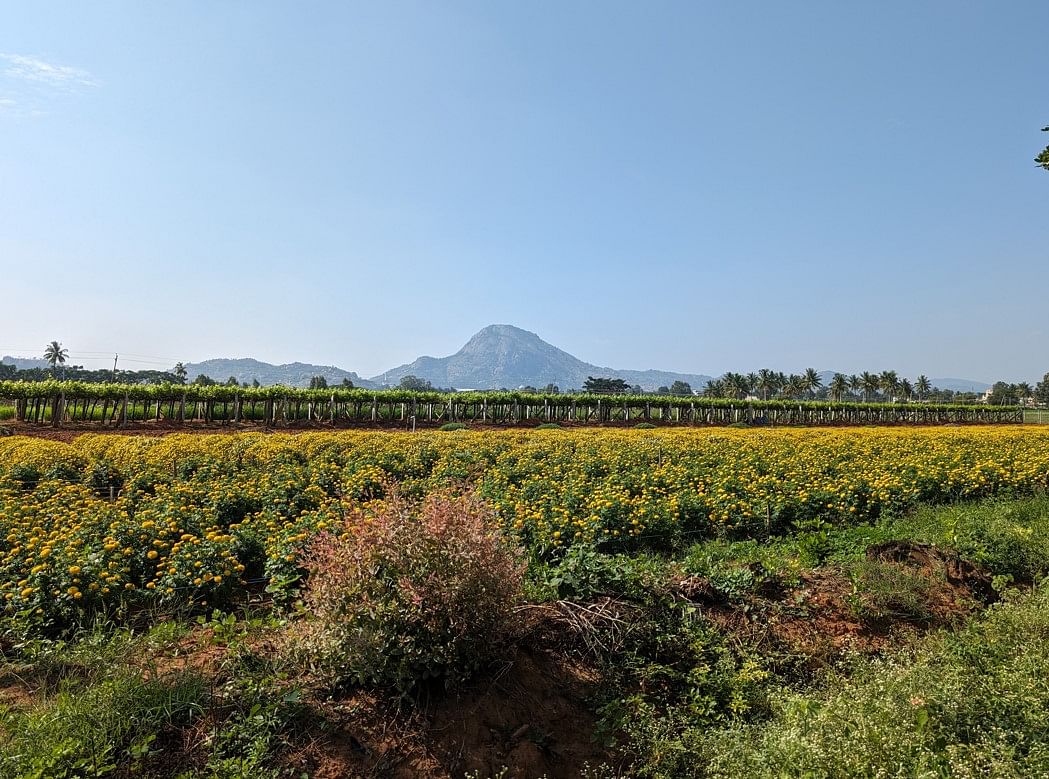 Camera sample of Google Pixel 8 with ultra wide angle mode.
Credit: DH Photo/KVN Rohit
The Pixel 8 has a maximum of 8X digital zoom and as you can see the top of the Nandi Hills, there is very little noise.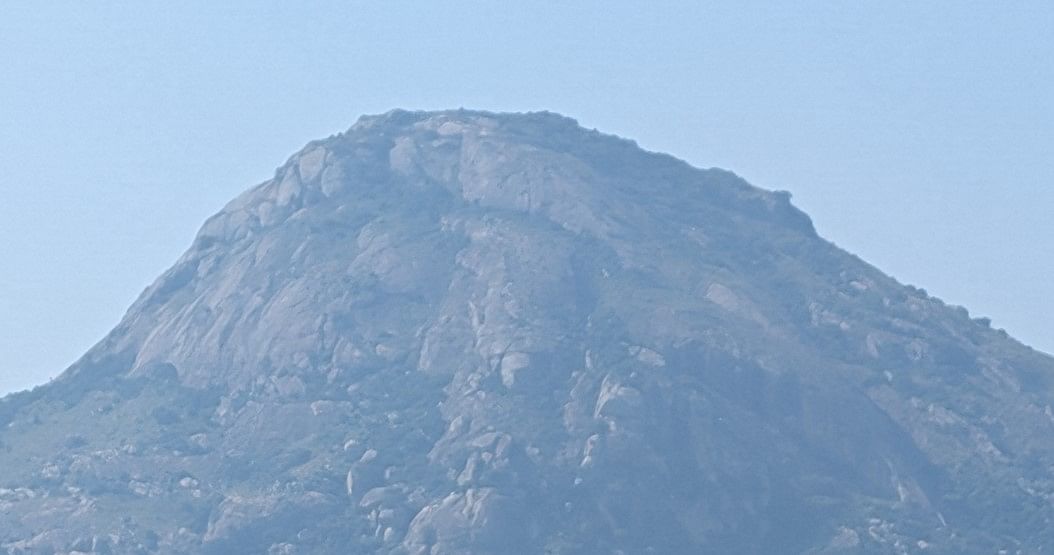 Camera sample of Google Pixel 8 with 8X Zoom.
Credit: DH Photo/KVN Rohit
With macro mode, Pixel 8 again does an amazing job of getting those minute details clearly in the frame.
On the front, it houses a 10.8MP front camera (with a Samsung 3J1 sensor, support 92.8-degree field-of-view ).
Both the rear and front cameras take beautiful portraits with fantastic bokeh effects.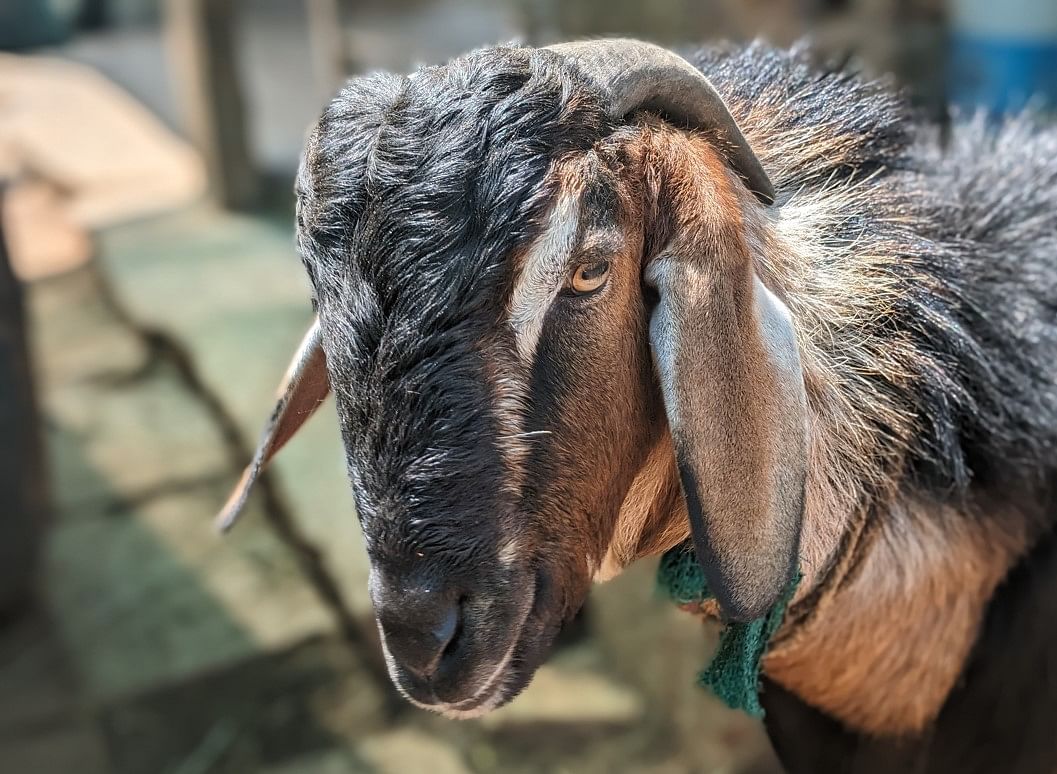 Camera sample of Google Pixel 8 with portrait mode.
Credit: DH Photo/KVN Rohit
The Pixel 8 can record up to 4K resolution videos at 24/30/60 fps(frames per second). The videos are really stable and the colours of the subject to come off naturally.
While most phones manage to come close to Pixel phones in delivering crisp photos, they don't stand a chance with Google's magical Artificial Intelligence(AI)-powered computational photography tools.
With Pixel 7, Google introduced the magic eraser features. It is an amazing handy tool to remove those photo bombs from the frame. Now, with the Pixel 8 series, the company has introduced Magic Editor. With this, you can just lift an object, be it a human or a building with a finger and place it anywhere you want it in the frame. In a few seconds, provided there is a good internet connection, it can magically translocate the object without leaving any noticeable trail.
As you can see in the screen grab (below), I was able to move the building to the right with ease. I have to note that, the magic editor offers several sample photos and during the initial run, there were subtle remanents of the building in its original position. I tapped on more sample options, and the Pixel 8 was able to get that perfect photo without any smudge in the background.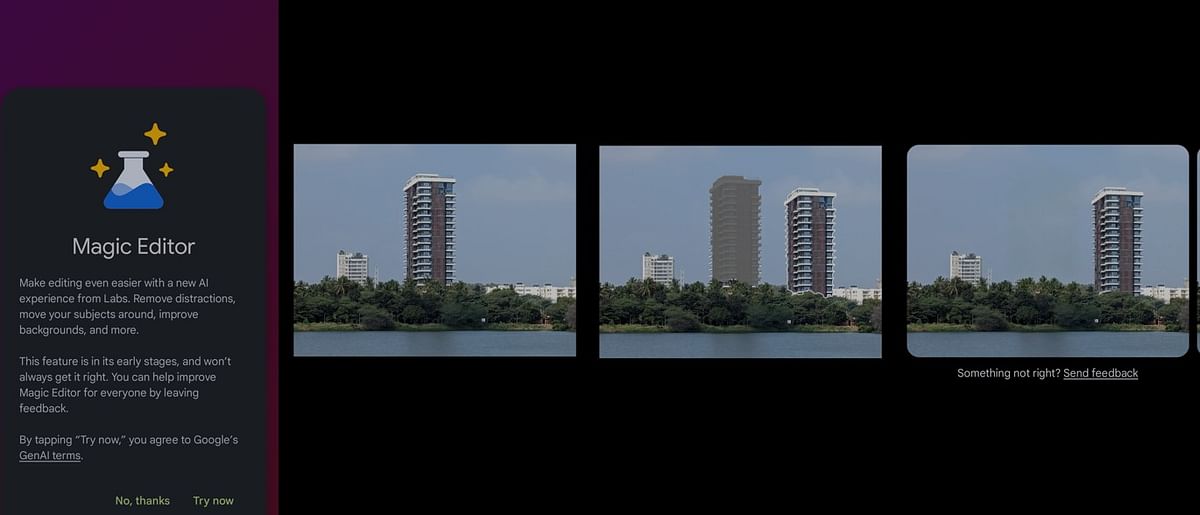 Google Pixel 8's Magic Editor in action.
Credit: DH Photo/KVN Rohit
Google also introduced the Best Take with the Pixel 8 series. This is my favourite feature. During a photo session involving a group of three or more people, it is a very difficult task to get a great group photo with all the faces looking at the camera.
More often than not, at least one person will have their eyes closed or look the other way and ruin that perfect family photo moment.
Now, the Pixel 8 owner can just sit back and click on the 'Edit' tab and tap on 'Tools' and , find the Best Take option and tap on it. The feature takes a few seconds to curate all the subject's faces in the group and select that person's face which is not seeing the camera. There, the Pixel 8 offers a person's face from different angles and you select the right one.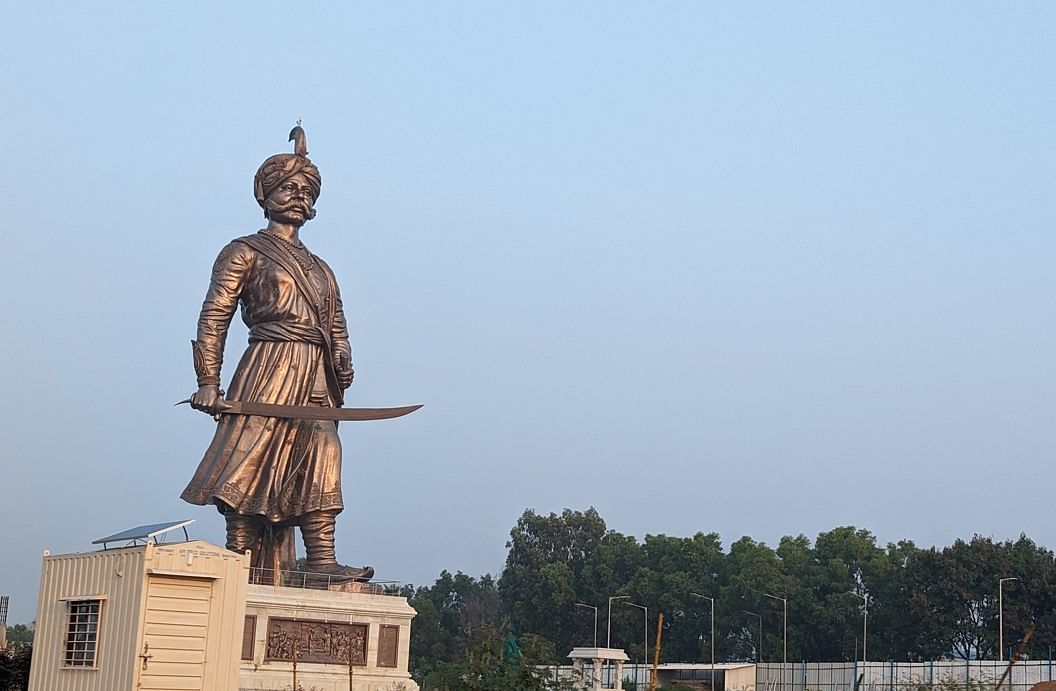 Camera sample of Google Pixel 8.
Credit: DH Photo/KVN Rohit
Once done, that particular person magically positioned right and eyes looking straight to the camera.
And, what impressed me the most is that the face perfectly sits on the shoulders and it never gives away any hint of alteration at all. Kudos to the Google engineers for an amazing effort for the Best Take. This extraordinary feature is exclusive to the Pixel 8 and 8 Pro.
Another first coming with the Pixel 8 series is the Audio Eraser. Here too, it does a remarkable job of removing the noise in the background of a video conversation. It is a great tool for journalists to block out unwanted sounds and ensure only the subjects' voices are clearly heard in the video.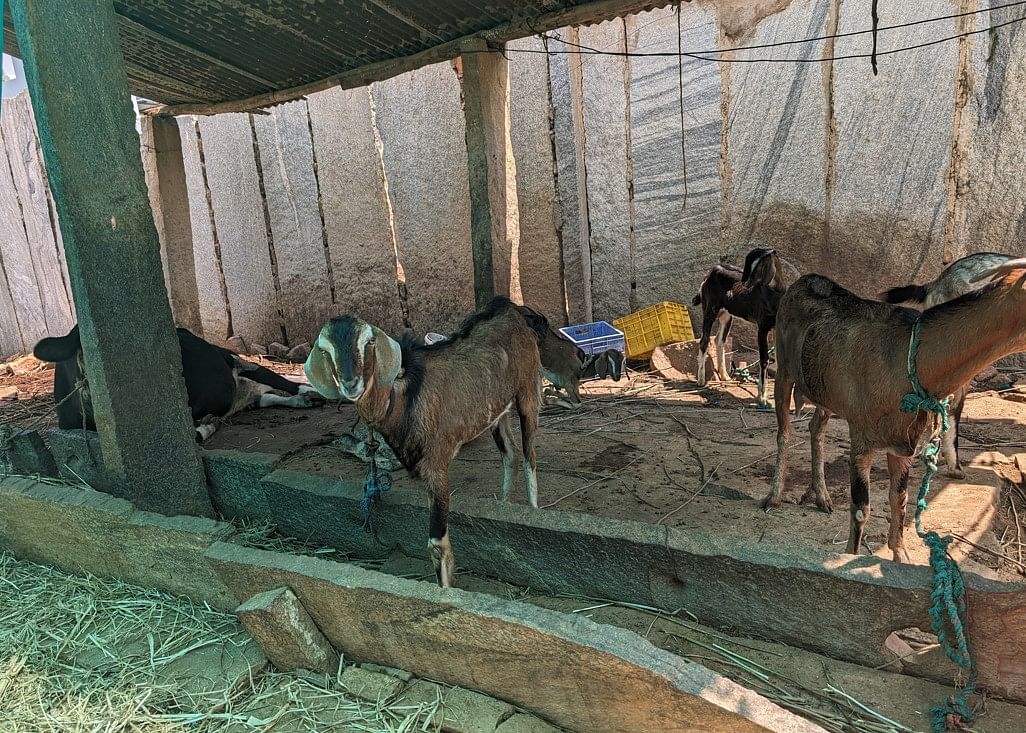 Camera sample of Google Pixel 8 without magic eraser effect.
Credit: DH Photo/KVN Rohit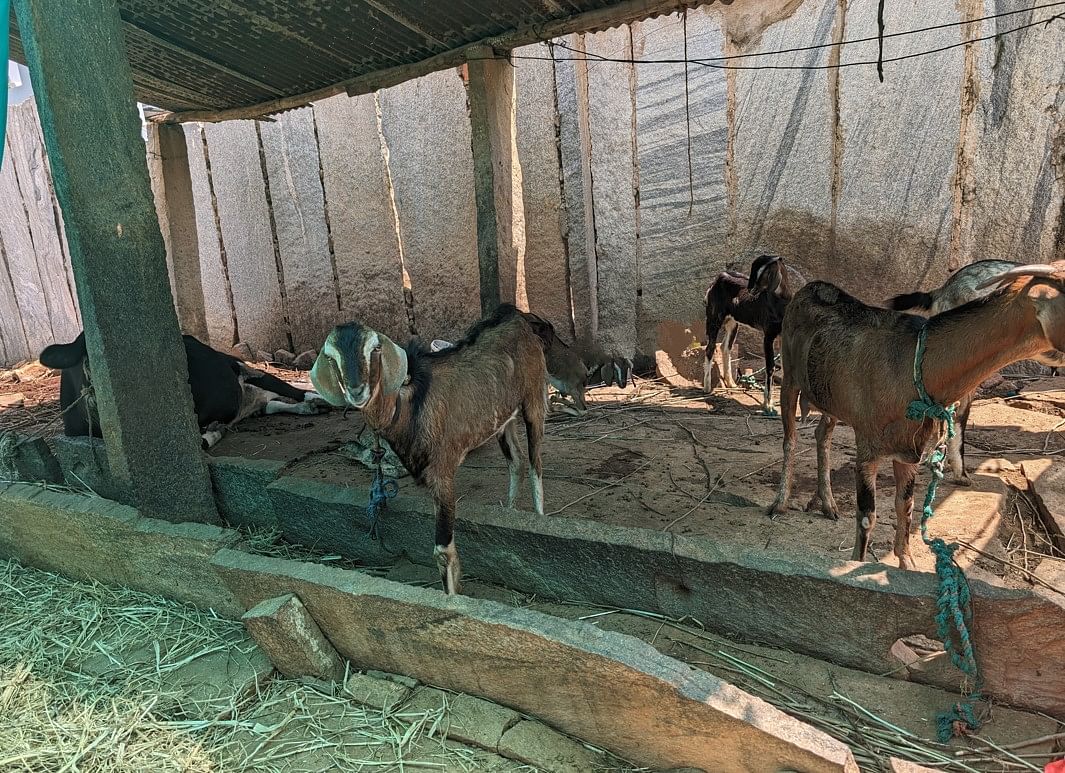 Camera sample of Google Pixel 8 with magic eraser effect. See how the yellow and blue crate vanish in thin air in this image.
Credit: DH Photo/KVN Rohit
Overall, Google has done a fabulous job by bringing meaningful value-addition to the photography experience on the Pixel 8 series.
With software support for seven years, Google will always be offering new tools and bring bug fixes to make the Magic Editor, Best Take, Audio Eraser get better over time.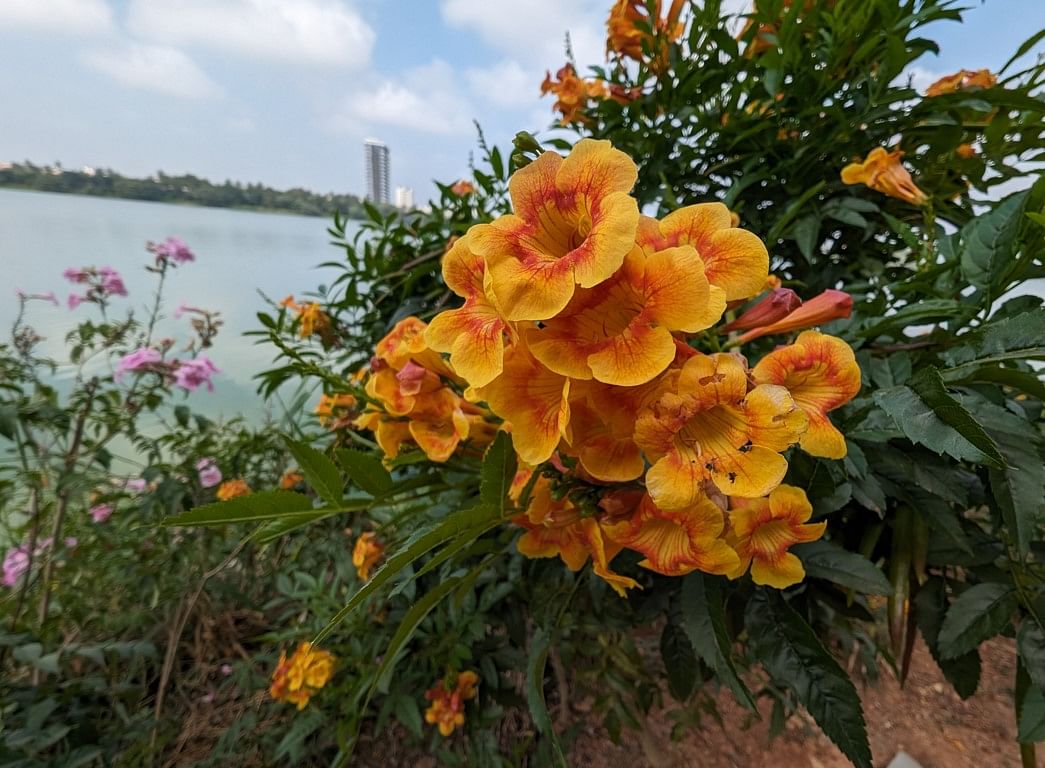 Camera sample of Google Pixel 8 with magic eraser effect.
Credit: DH Photo/KVN Rohit
Final thoughts
Though the Tensor G3-powered Pixel 8 is amazingly great with AI-powered computational photography features such as Live translation, real-time transcribing, Magic Editor, Best Take and Magic Eraser, it is kind of slow in executing in the tasks. Also, it is just not made for extreme gaming either.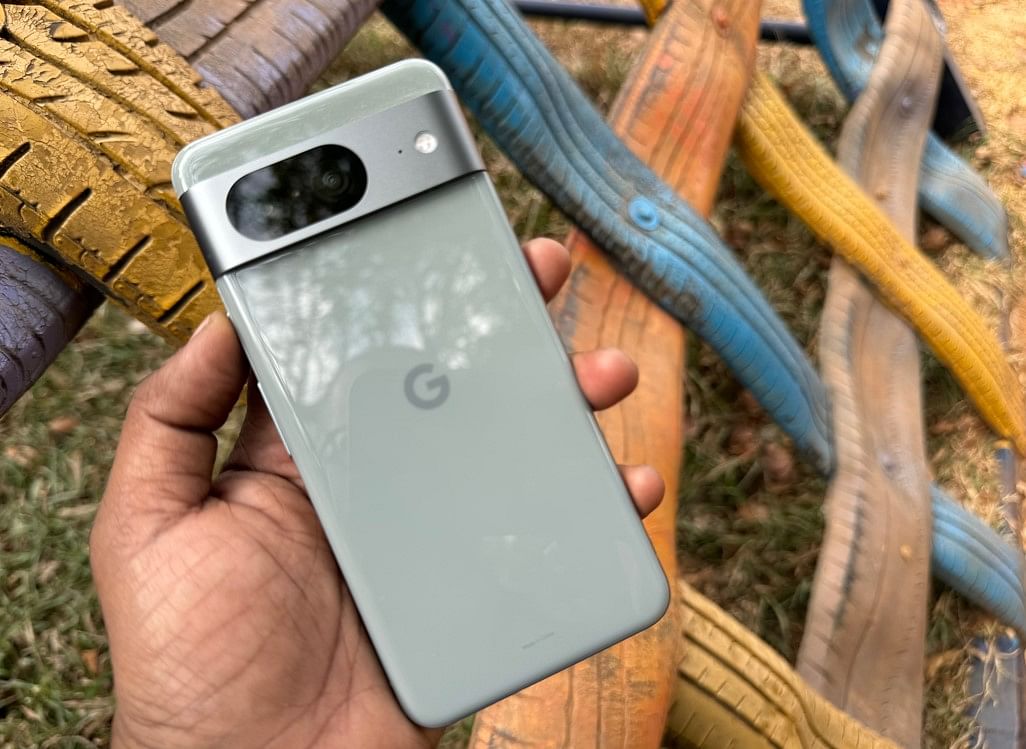 Google Pixel 8.
Credit: DH Photo/KVN Rohit
So, who is it good for? This Google phone is perfect for those who just want a reliable phone for day-to-day regular tasks and enjoy photography in their spare time. For journalists, Pixel phones are a boon, as the live translations and transcribing capabilities are just next level and none come close to these aspects.
And, given the fact Google is offering seven years of OS updates, this is really big incentive own one, and be able to get new features every year up to 2030.
In India, Pixel 8 (128GB) and Pixel 8 Pro (128GB) is available on exclusively Flipkart in India with prices starting at Rs 75,999 and Rs 1,06,999, respectively.
Get the latest news on new launches, gadget reviews, apps, cybersecurity, and more on personal technology only on DH Tech.
(Published 14 November 2023, 01:04 IST)