Samsung has tried its hand with Virtual Reality (VR) headset, but it never received much success compared to its smartphones or smart TVs.
Now, with Apple set to bring its first-ever VR gear in early 2024, South Korean technology major has reportedly begun working on an ultra-premium VR set.
If local Korean daily JoongAng is to be believed, Samsung, Google, and chipset maker Qualcomm under XR Alliance will be ready to showcase the VR gear in the second half of 2024.
It is touted to be priced around $2000 (approx. Rs 1,66,577) and comes with high-end hardware including a proprietary OLED-based microdisplay to deliver an immersive viewing experience with stunning resolution and colours. It is expected to be on par with Sony's microLED display panels used in Apple Vision Pro. The two panels come with 23 million pixels, which is more than a 4K TV for each eye.
The Vision Pro, which Apple likes to call it 'spatial computer' comes with proprietary R1 silicon, which enables the device to stream new images to the displays within 12 milliseconds — 8x faster than the blink of an eye.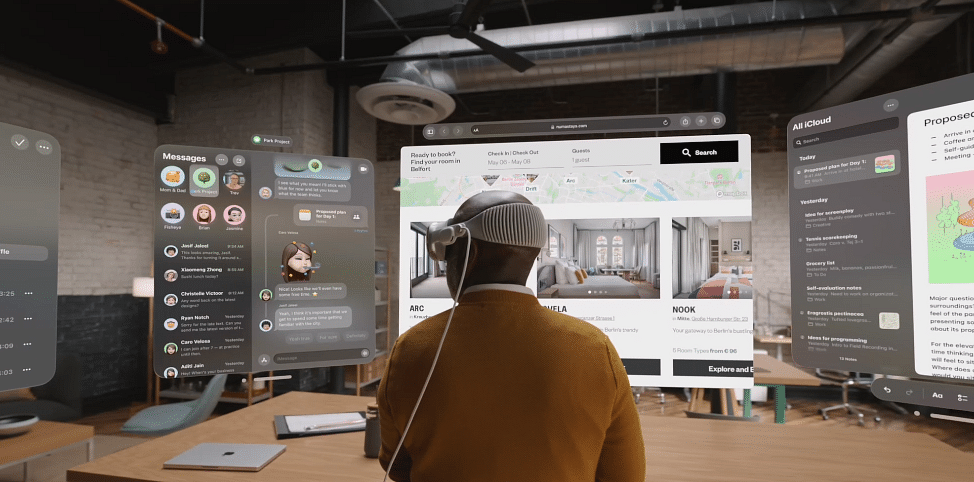 Apple's Vision Pro demo (screen-grab)
Credit: Apple
On the other hand, Samsung's VR gadget is said to be powered by Qualcomm's special XR series chipset and be able to deliver lag-free performance.
And, it is said to run on Google's specially optimized Android OS for VR devices.
However, due to supply constraints in high quality display production, the Samsung VR set will be available in limited numbers of around 30,000 during the launch time in the second half of 2024.
Before launching the device, Samsung is expected to host prominent app developers to create a big pool of high-quality apps and this will help attracting consumers.
Since making the announcement in early 2023, Apple has been working with several creators and has also offered Vision Pro kits to develop for the visionOS ecosystem.
And, it should be noted that the latest iPhone 15 Pro series can record high-quality videos that can be viewed in 3D on Vision Pro.
Get the latest news on new launches, gadget reviews, apps, cybersecurity, and more on personal technology only on DH Tech
(Published 13 November 2023, 06:48 IST)