Truckloads of debris dumped all along the unfinished Ejipura flyover is finally getting cleared to pave the way for the construction of the 2.5-kilometre elevated road.
The actual work is at least three months away, as the BBMP wants to test the existing girders and complete pre-construction activities.
Although the civil works slowed down in 2019 after the original contractor went bankrupt, the BBMP did not make any efforts to clear hurdles like land acquisition or approvals to cut or relocate trees. This year, the civic body has taken up time-consuming preliminary works.
Last week, Transport Minister and eight-time MLA Ramalinga Reddy met BBMP officials to review the project. After that, the Hyderabad-based BSCPL Infrastructure Ltd deployed earthmovers and trucks to cart away the debris dumped on the median ever since the project went into cold storage.
As per the initial survey, the BBMP requires land belonging to St John's Research Institute and Kendriya Sadan for the project.
About 25 trees, including mature ones, may also face the axe for the construction of the flyover. Some residents wished that the civic body ensured the right of way was cleared while the process of identifying a new contractor was underway.
The project, conceptualised in 2017, is expected to provide signal-free commute between Hosur Road and Old Airport Road. The original contractor, Simplex Infrastructure Ltd, has completed about 40% of the civil works. The BBMP cancelled the contract mid-last year after the company did not meet the milestones fixed by the civic body.
In September this year, the state cabinet awarded the unfinished work to BSCPL Infrastructure Ltd for a value of Rs 176 crore, which is about 19.52% higher than the BBMP's estimates.
The civic body said that the bidder was chosen as not many companies prefer to take up half-done works as they pose different challenges.
Trees to be axed
Speaking to DH, Reddy highlighted the need to immediately cut five trees.
"I have directed the BBMP officials to apply for permission to cut the trees. Parallelly, the BBMP will issue a preliminary notification to acquire land belonging to St John's Hospital. The land belonging to the army has already been acquired. We want to complete the project in less than two years," he said.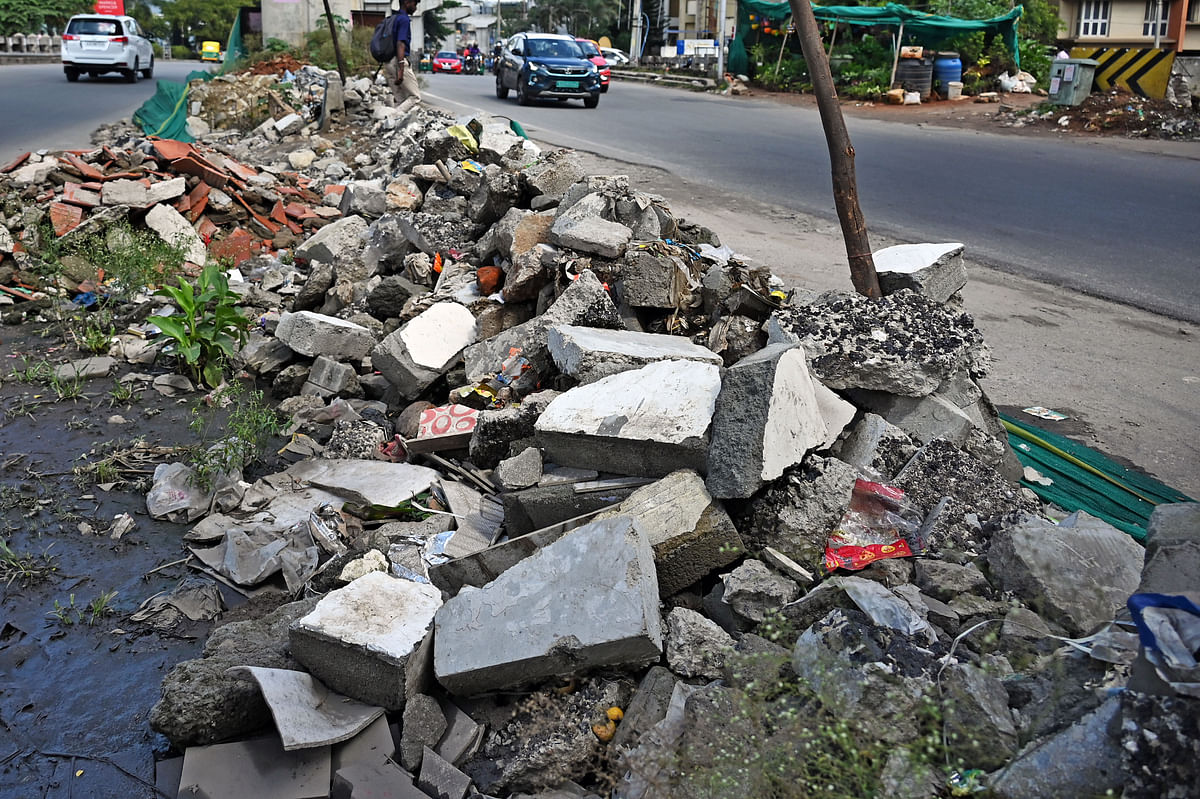 Truckloads of debris dumped along the median will be cleared soon as part of the preliminary work. The BBMP roped in a new firm in September to complete the flyover work.
DH PHOTO/PUSHKAR V
(Published 08 November 2023, 22:50 IST)