Dewas/ Sonekatch/ Dhar/ Sardarpur: It has been a long day for Radheshyam Jat and Balkrishna Sharma. Sitting under a hard November sun at Phawada village in Dewas, they watch a land deal take shape between two friends as they wait to hear from a nearby government office. It is sowing season and there is no urea fertiliser; they have spent hours in the government-run "society" in a long queue and they have had no luck.
"Just yesterday, an officer was roughed up by angry farmers; all we hear them say is that the stock is over," says Jat, who lives in the nearby Kumaria village. As the day ends, both men return home to come the next day.
Across the Malwa region, which is particularly known for its farming in Madhya Pradesh, farmers are a troubled lot. Dozens of farmers DH spoke to said that they are yet to get fertilisers, and many have gone on protests.
Yogesh Kamdar of Depalpur in Indore district says that farmers are given just a sack of
45 kilos of fertiliser per bigha. "The government sells it for Rs 270 per packet, but since stock is unavailable, we buy it from private players for Rs 350-400," says Kamdar, who says he gave up his BBA degree in a Gujarat college because there's no scope.
Kamdar's neighbour Shubham Patidar says that procurement is a hassle too. "The crop is done by March but no one buys it till April ends, and when they do, there are too many parameters to meet," says Patidar, who has an MBA degree.
Yellow mosaic virus is another issue they face, he says, and pesticides which cost Rs 900 per kg is now Rs 1400. "The pesticide does not guarantee no virus, and we have had to put it thrice in some cases. All the costs drive it up to Rs 10,000 per bigha for soyabean," he adds.
In contrast, farmers in Chief Minister Shivraj Singh Chouhan's constituency Budhni said they have received both urea and DAP. Anil Kumar Jat, a farmer outside of Jait village in Budhni, says everything has been available for them.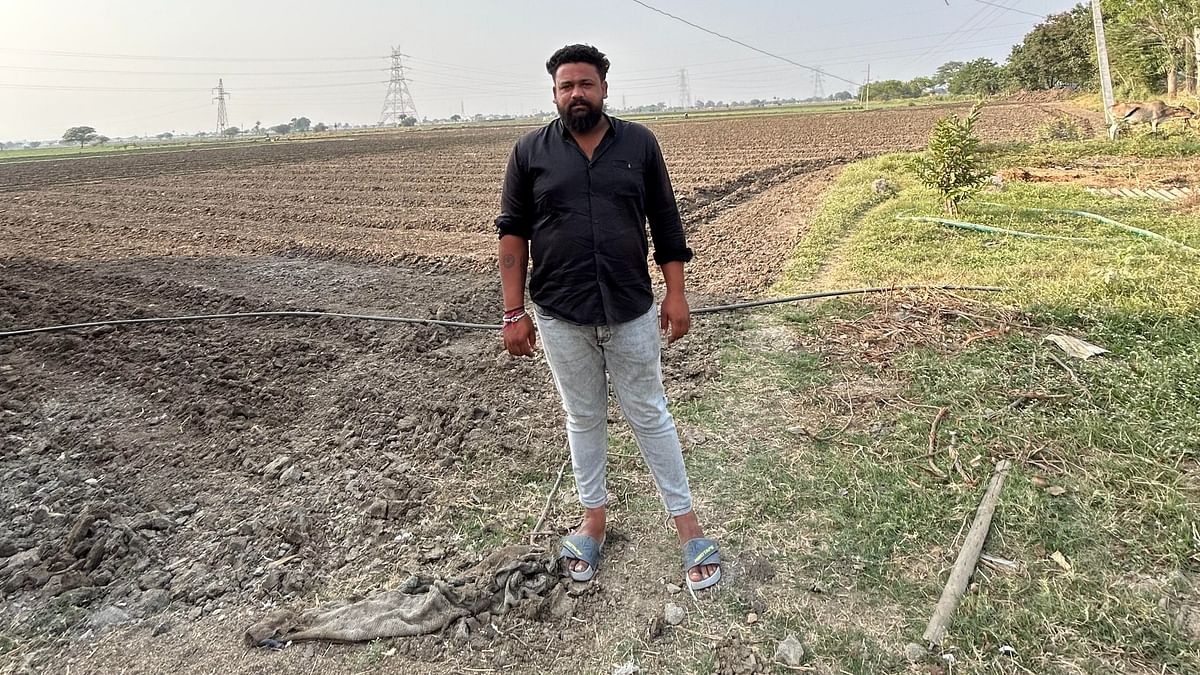 Yogesh Kamdar in his field.
Credit: Special Arrangement
Madhya Pradesh is a farming state, with 72.4 per cent of its population engaged in farming. Soybean is most cultivated, with the state contributing to half of the country's production of the crop. Wheat and horticultural products like tomatoes and garlic are some of the other crops. Farming becomes a political issue every five years when the state heads to the elections. This term, too, both the BJP and the Congress have centred their efforts on wooing farmers.
Yatindra Singh Sisodia, director of the Madhya Pradesh Institute of Social Science Research in Ujjain, says that farmers have been an angry lot this election season. "Farmers are facing a host of issues – pricing, irrigation, availability of seeds etc – in addition to the absence of fertilisers. In reply to the CM's Ladli Behna Yojana, the farmers are asking what about the betey (sons)," he said.
The BJP has promised to purchase wheat at Rs 2,700 per quintal and paddy at Rs 3,100 as well as give Rs 12,000 for farmers. The Congress, on the other hand, said it will buy paddy at Rs 2,500 and wheat at Rs 2,600 per quintal in addition to a crop loan waiver.
The Congress won the last elections on a wave of farmers' dissent. In June 2018, six farmers were shot dead in Mandsaur by the police protesting for better minimum support price (MSP).
This term, too, farmers are demanding a better price. MSP for wheat is Rs 2125 per quintal, and farmers want Rs 4000. For soybean, they want Rs 6000 per quintal.
Congress spokesperson Charandeep Sapra says that pricing is not the only problem. "Procurement is meagre, and while PM Modi harps on MSP the government just doesn't buy. Input costs remain high, while output does not fetch much. The BJP has been in the state for close to two decades now," says Sapra. The Congress has also promised 37 lakh farmers free power for agriculture pumps with a capacity of up to 5 horsepower and allege that over 20,489 farmers have died by suicide.
The BJP, on the other hand, has fielded veteran leader and union agriculture minister Narendar Singh Tomar.
Balkrishna Sharma sums up the issue. "The farmer wakes up at 4am to work in the field, because that's when the electricity is available, has to struggle for resources like fertiliser and DAP, and then when it sells, it's a pittance. What else do we do."
(Published 14 November 2023, 01:50 IST)