With Diwali (Deepavali) less than a week away, Apple has announced a special offer on the iPhone 14 and 14 Plus series in India.
Prospective iPhone 14, 14 Plus buyers are entitled to get a 50 per cent flat discount on AirPods (3rd generation) with Lightning Charging Case.
It also applies to the latest AirPods (3rd generation) with MagSafe Charging Case and the AirPods Pro (2nd generation) too.
Add to that, iPhone 14 consumers will get 6-month Apple Music subscription free too.
The offer is valid on the official Apple online store and physical retail stores–Apple BKC (Mumbai) and Apple Saket (Delhi) till November 14 or up to stocks last.
However, this offer cannot be combined with instant cashback or Education/Corporate Employee Purchase Plan.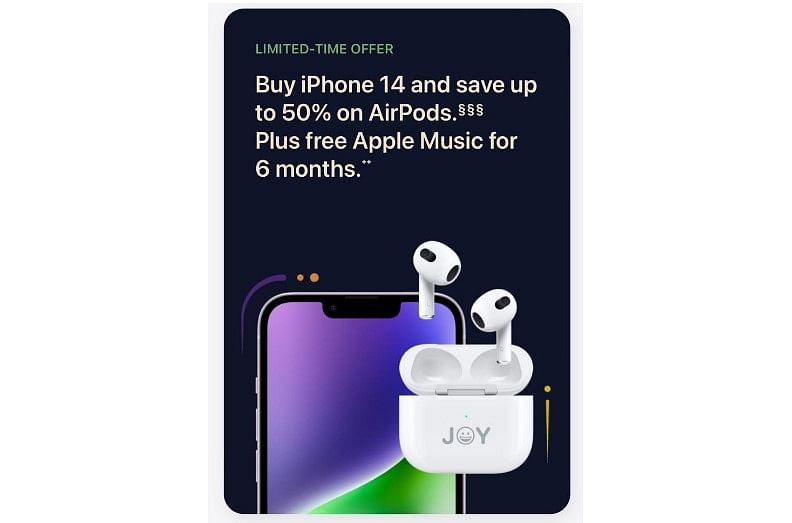 Apple offers bundle deals on iPhone 14, 14 Plus and AirPods in India.
Apple Store [Screengrab]
Apple is also offering additional trade-in discounts ranging between Rs 2,000 and Rs 67,800 for select old phones, which will further reduce the prices of the iPhone 14 and 14 Plus.
Furthermore, customers can get personalised engraving on AirPods and Pro for free.
This is a great deal for those who have been planning to make that jump from the Android camp to the high-walled garden of Apple ecosystem.
Apple iPhone 14 comes with a solid built quality is powered by a reliable A15 Bionic chipset and is assured to get at least four to five years of iOS updates.
Also, the dual camera of the iPhone 14 series is good too. They can take pretty sharp and clearer pictures in almost all light conditions.
The iPhone 14 Plus is known for its long battery life and big display is good for long reads and binge-watch TV series and movies during long journeys.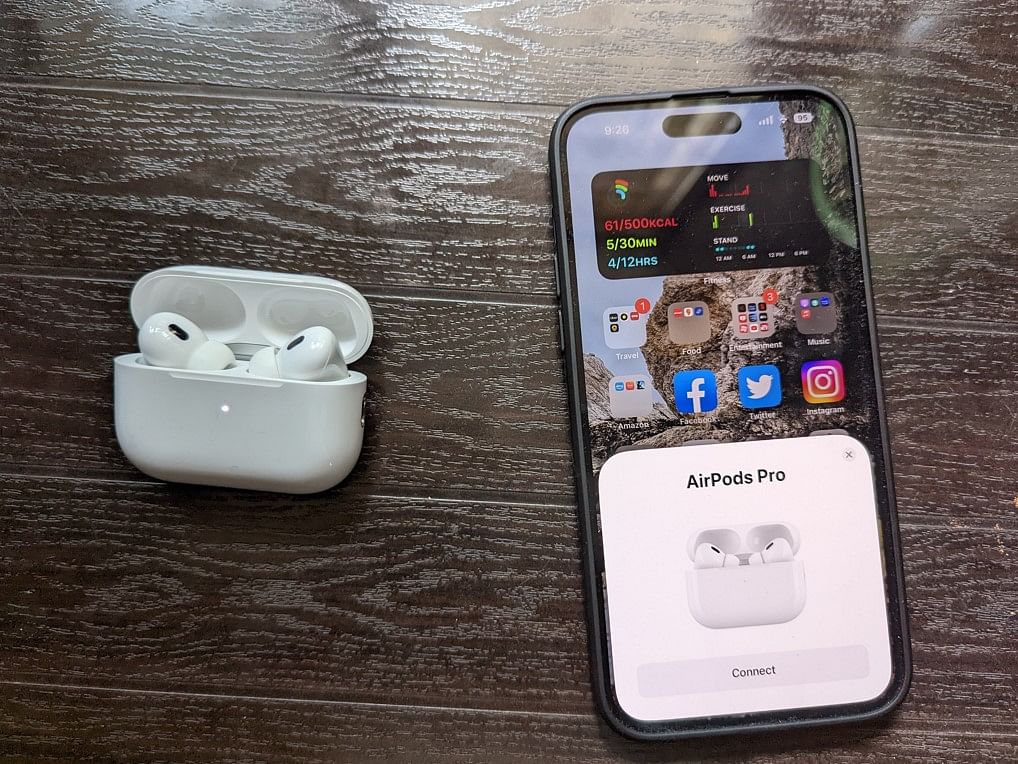 [Representational Image] In the Picture: Apple AirPods Pro (2nd Gen) with the iPhone 14 Pro Max.
DH Photo/KVN Rohit
And, to get AirPods Pro (2nd gen) for 50 per cent of the price is too good a deal to miss out. They are great at delivering clear audio quality with the amazing Active Noise Cancelling capability.
Even during calls, the microphones of the AirPods Pro are the finest in the industry. And, they are deeply integrated with iPhones for seamless stable connectivity and hearing accessibility features.
Must read | Here's how to make good use of hearing accessibility features on Apple devices
The regular AirPods (3rd Gen) are good too. Like the Pro, the regular AirPods are well-optimised to work flawlessly on iPhones and deliver good audio output and call quality.
Get the latest news on new launches, gadget reviews, apps, cybersecurity, and more on personal technology only on DH Tech
(Published 08 November 2023, 07:17 IST)