Apple Watch Series 9 45 MM (Midnight Blue)☆☆☆☆☆NaN/5Pros:
Exceptionally good at tracking health | Carbon Neutral product | Remarkably good 'Double Tap' feature
Cons:
Lasts just one day
Specifications:
2000 nits brightness | Apple S9 SiP with 4-core neural engine | Carbon Neutral product | Sturdy and premium build quality | New UltraWide Band chip for precision tracking of iPhone 15 family| IP68 rating | ECG | VO2 Max| New optical heartrate sensor
For the last three iterations, Apple Watches have been the same with very few improvements.
This time, though the new Watch Series 9 looks similar to its predecessor, the company has incorporated a next-generation S9 silicon with a powerful neural engine and valuable meaningful new features.
I have been using the Apple Watch Series 9 for close to a month and here are my thoughts.
Design, build quality and display
If you place the Watch Series 9 side-by-side with the Watch Series 8, there is hardly any difference. It has the trademark squarish lozenge design with curvaceous edges. The display beautifully cascades to the metal enclosure with a smooth matte finish.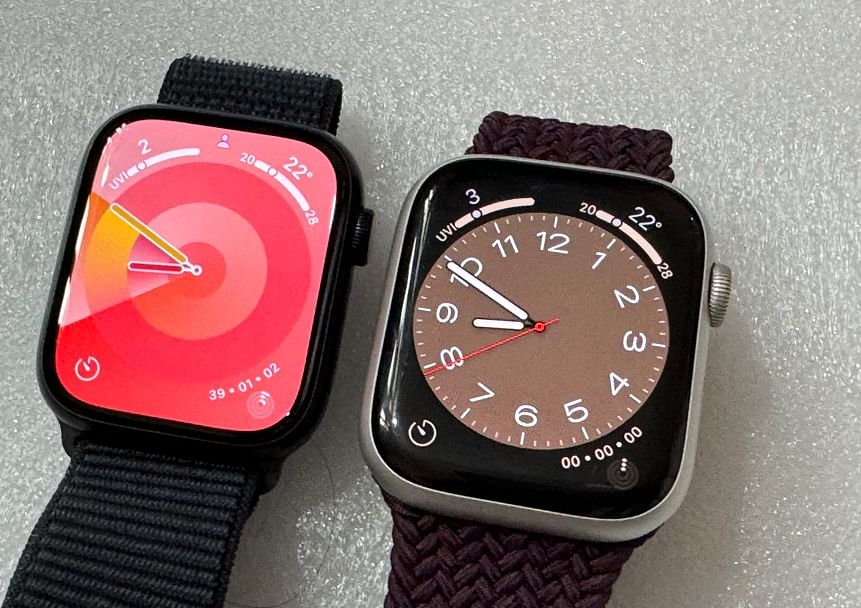 Apple Watch Series 9 (left) and Watch Series 8
DH Photo/KVN Rohit
It features a tactile digital crown with a red ring (only found in the LTE version), a microphone and a side button below.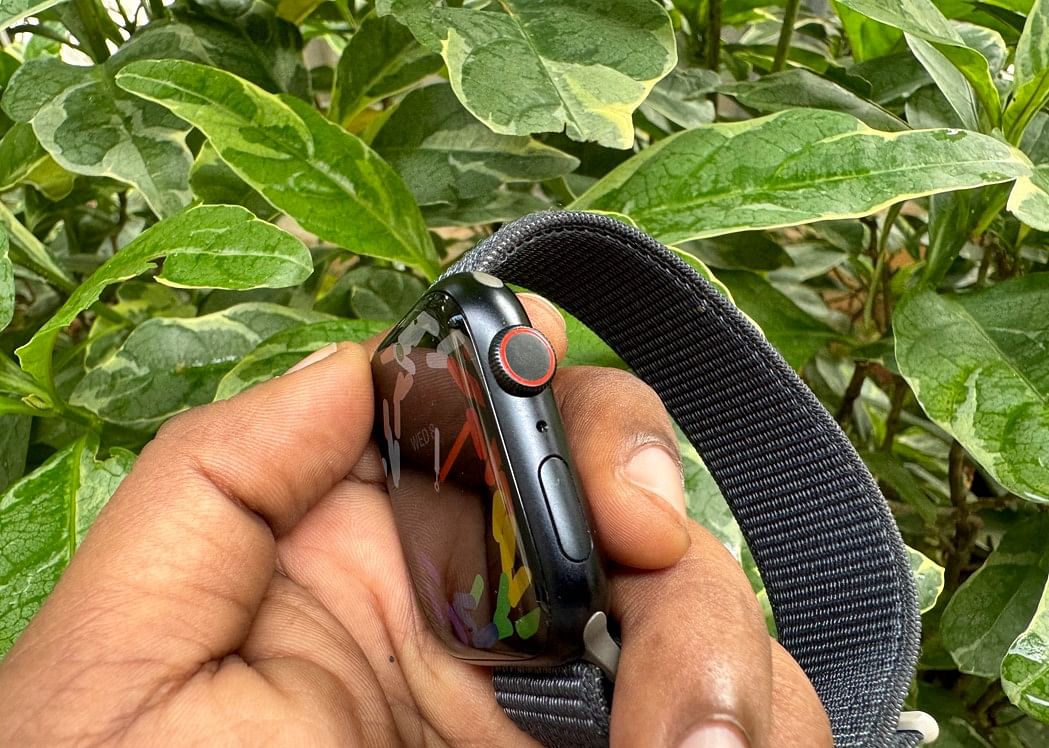 Apple Watch Series 9.
DH Photo/KVN Rohit
And, on the opposite side, you will find the single-grille speaker, which by the way is amazingly good. You can clearly hear the person during a call even in a crowded place.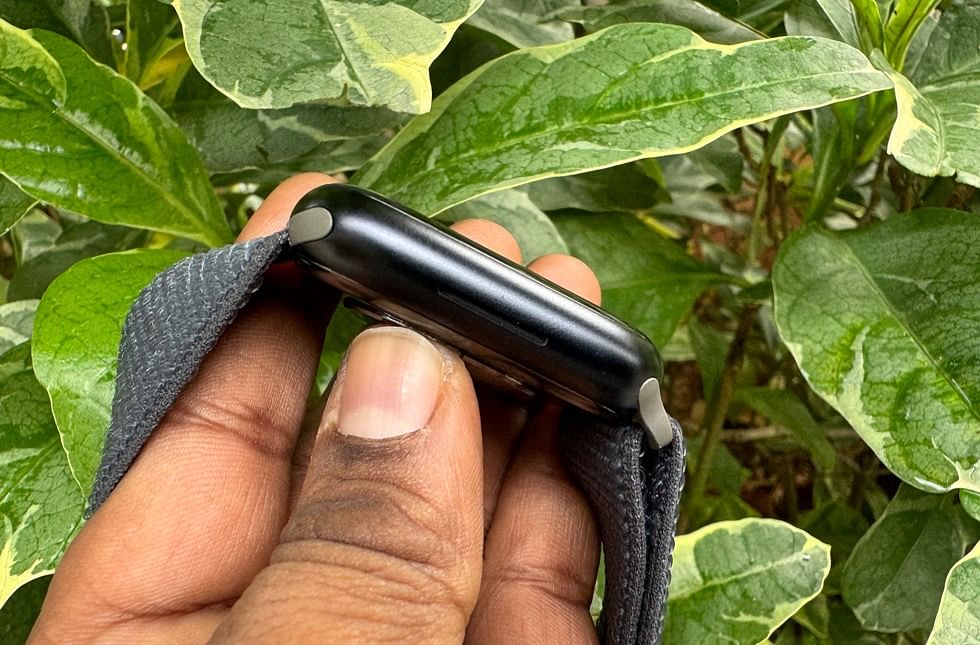 Apple Watch Series 9.
DH Photo/KVN Rohit
But, a long conversation is not recommended, as it will be awkward to put a wrist near the face for extended time outdoors and attract unwanted attention. Use only in emergency situation with no access to earphones or phones (the LTE modem in the watch is awesome, more on that later).
This review unit is 45mm midnight blue aluminium model with FineWoven sport loop strap. On the top, it features Ion-X glass protection and is good enough to resist scratches.
And, it comes with an IP68 rating, meaning the watch can sustain water pressure up to six metres for close to 30 minutes.
Apple also offers a smaller 41 mm Watch Series 9 with a more compact design. And, besides the midnight blue, there are four other colour options– silver, (PRODUCT)RED, and a new pink aluminium.
If you have extra cash to splurge, Apple also offers a stainless steel variant with sapphire glass protection, which can survive daily wear and tear better than the aluminium model.
And, stainless steel variants are available in gold, silver, and graphite colour cases.
The first of many big upgrades we see in the Watch Series 9 is the display. It can support up to 2000 nits brightness, which is a blessing to people like me with eye issues (Keratoconus). The messages appear clearly on display and I don't have to take my wrist close to my face to read them. I am able to read right from the waist level without much hassle.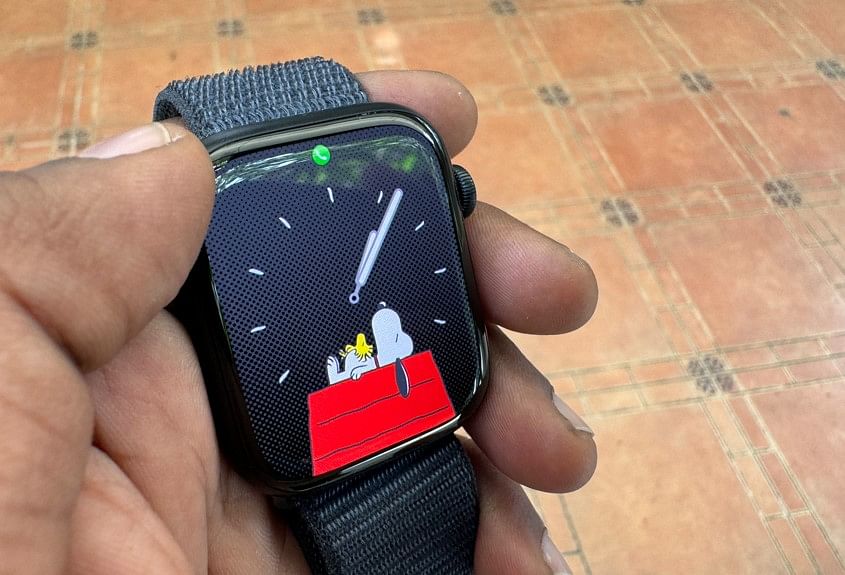 Apple Watch Series 9
DH Photo/KVN Rohit
For me personally, the most notable aspect of the Watch Series 9 is that it is the lone tier-one branded eco-friendly smart wearable out there in the industry.
To make the device a true carbon-neutral product, Apple has taken proactive measures to reduce emissions from the three biggest sources of greenhouse gases — materials, electricity used for manufacturing and transportation of the Watch Series 9.
The aluminium cases used in all regular models are said to 100 per cent recycled. Even in the battery, the key ingredient cobalt is also 100 per cent repurposed.
Also, the sport loop strap that comes with Watch Series 9 is made from 100 per cent reused materials. And, Apple Watch packaging is made from 100 percent fibre-based materials.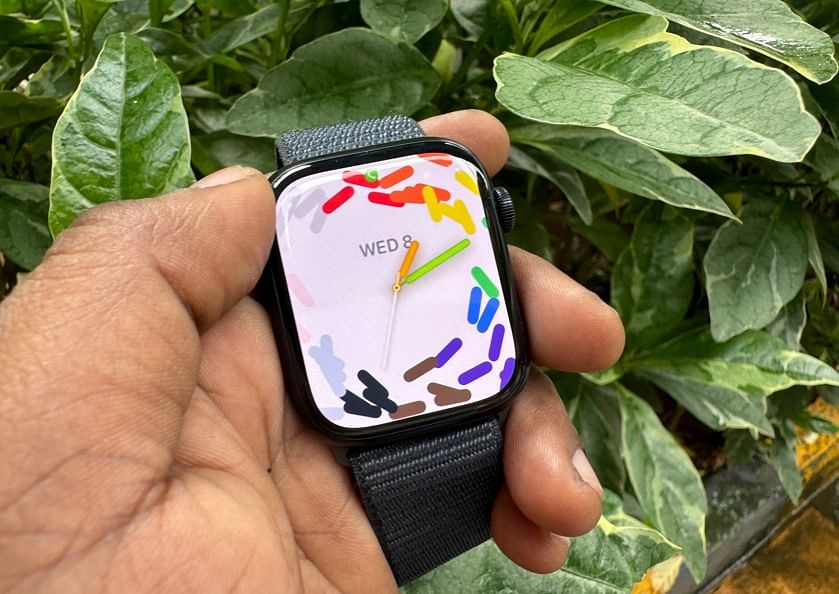 Apple Watch Series 9
DH Photo/KVN Rohit
The company, which has set an ambitious goal of turning to carbon neutral by 2030, has even let go of leather accessories for good. It now offers better alternatives in the form of FineWoven, a luxurious and durable micro twill made of 68 percent post-consumer recycled content that has significantly lower carbon emissions compared to leather.
Besides the Watch Series 9, Apple is offering the latest Watch Ultra 2 and the newly assembled Watch SE (2nd gen) in carbon neutral options.
Performance
The new Watch Series 9 houses a brand new S9 SiP (System-in-Package) which is touted to be 25 per cent more power efficient compared to the predecessor. The S9 silicon comes paired with a 4-core Neural Engine that can process machine learning tasks up to twice as fast when compared with its predecessor. And, it does live up to the hype.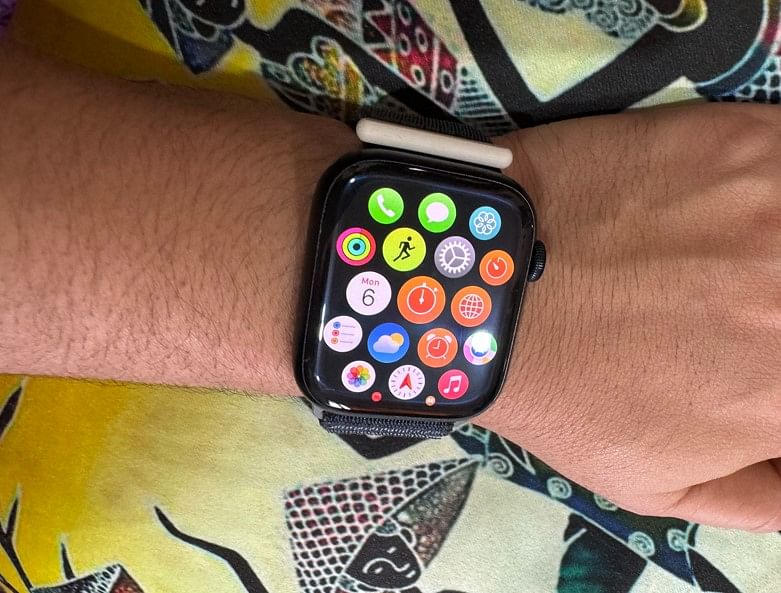 Apple Watch Series 9 runs on watchOS 10 out-of-the-box.
DH Photo/KVN Rohit
With the arrival of WatchOS 10.1 a week ago, the Watch Series 9 (and Watch Ultra 2) now supports the double tap gesture.
Users can tap the index finger and thumb of the watch hand together twice to quickly and seamlessly perform many of the most common actions such as answering a call, playing and pausing music, and stopping a timer or alarm without having to use the other hand to touch the screen.
The Neural Engine plays a critical role here to ensure the double tap feature works flawlessly. It processes data from the accelerometer, gyroscope, and optical heart sensor with a new machine-learning algorithm. The algorithm is capable of detecting even the slightest tiny wrist movements and changes in blood flow when the index finger and thumb perform a double tap.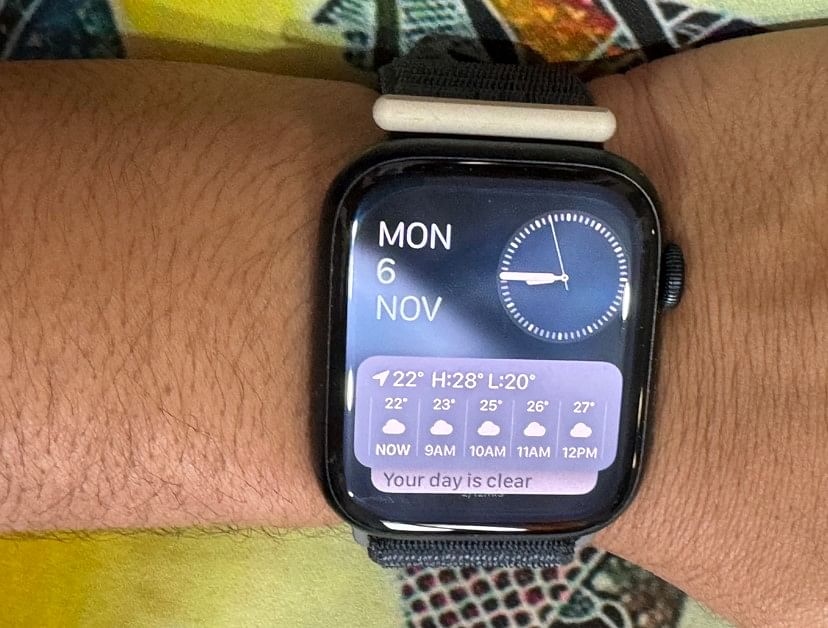 Smart Stack feature onApple Watch Series 9.
DH Photo/KVN Rohit
It can even help you read messages from a notification. And, one can even scroll through longer notifications with an additional double tap and reply using dictation, and instantly send a message.
During the review period, it worked amazingly well with negligible fail rate. For me personally, it greatly helped me when travelling on the bus during rush hour to answer or ignore calls.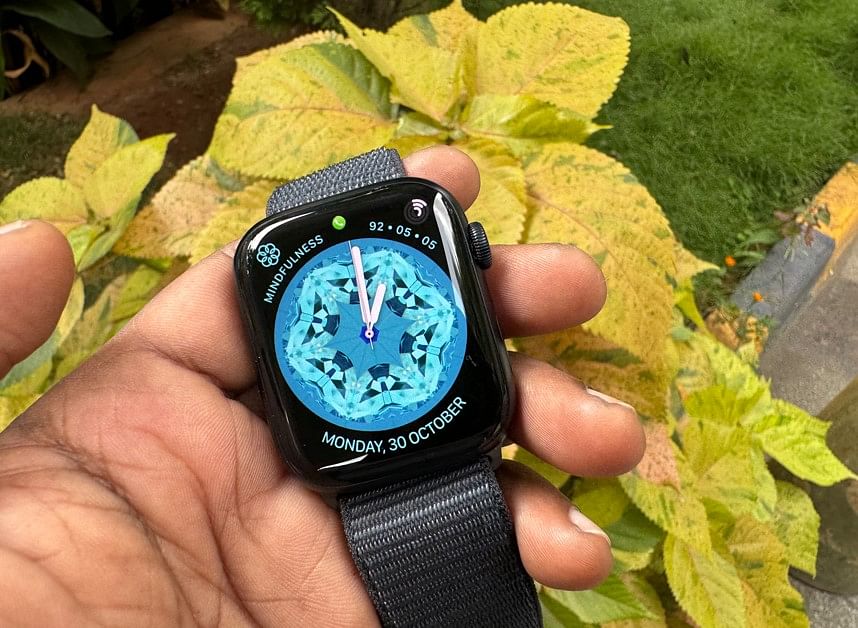 Apple Watch Series 9.
DH Photo/KVN Rohit
Even when doing exercises, just with a double tap, one can pause or end the timer with minimal effort.
Other native features such as Activity Rings, Mindfulness app, ECG (Electrocardiogram), SpO2 (blood-oxygen saturation), irregular heart rate monitor, VO2 Max ( for cardio health), Respiratory health (breath rate), Sleep Pattern work as advertised.
It also features a new temperature sensor and this helps in delivering more accurate estimation of ovulation and improved period predictions for women.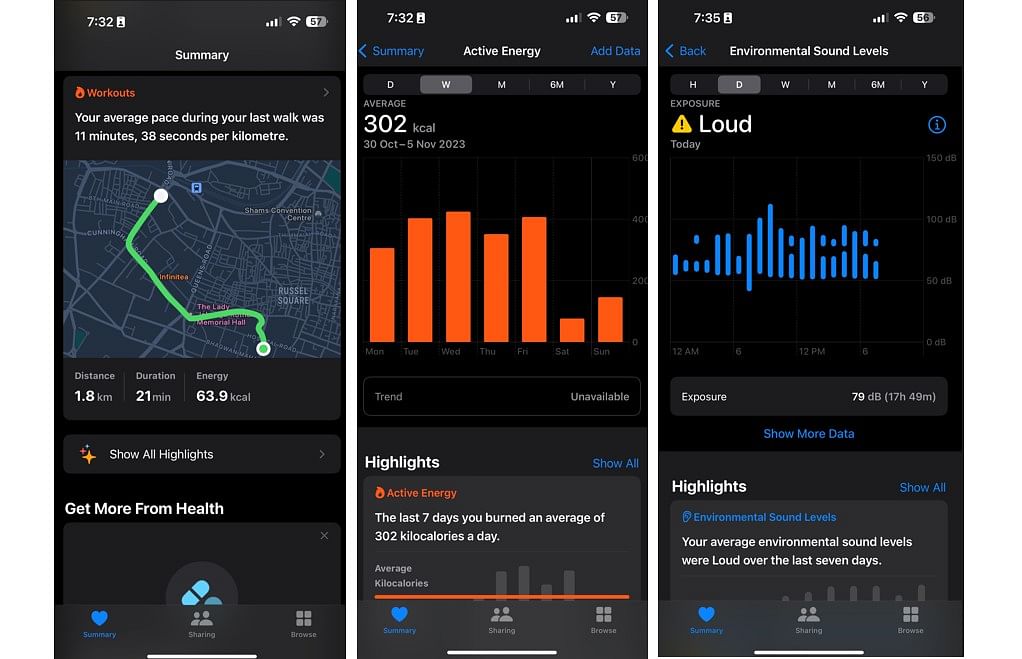 Apple Watch Series 9 can help you track physical activities of the day.
DH Photo/KVN Rohit
All the minute details of critical body vitals are beautifully delivered on the Health app on iPhone. If you happen to own an iPad (with iPadOS 17), the graphics and statistics look even better. Also, most importantly offers data in a simple and easy-to-understand format even for a rookie user or senior citizen.
Even Siri has been improved to pull the health data more accurately than ever before.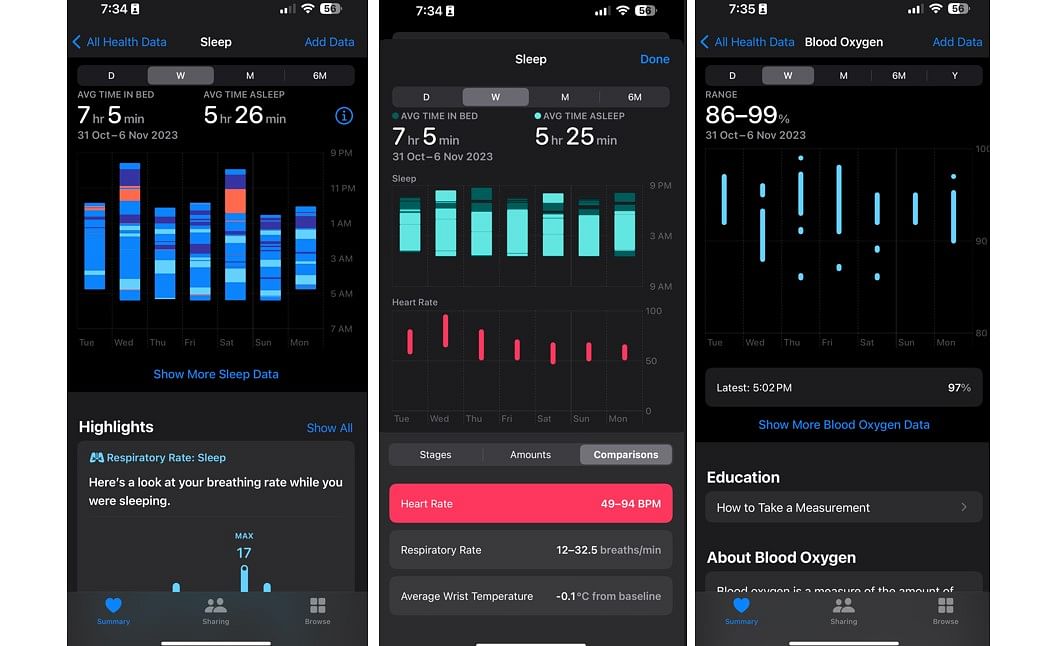 Apple Watch Series 9 Sleep and Blood-Oxygen reading
DH Photo/KVN Rohit
One can easily understand their physical activity and which area they can improve.
The data can be shared with family doctors and with their professional guidance, one can work more on their fitness and lead a healthy life.
And, the Watch Series 9 also feature another potential life-saving feature Car Crash detection.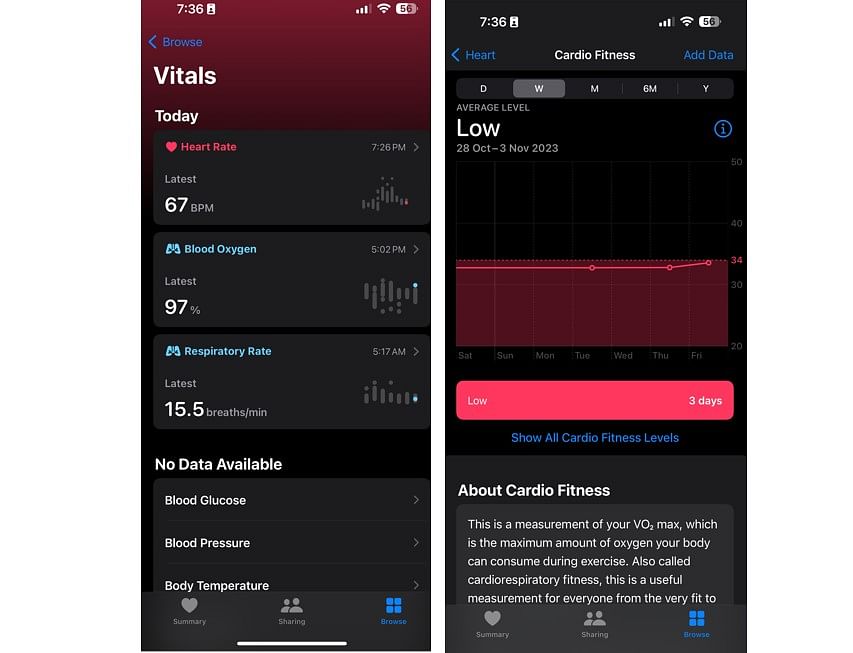 Apple Watch Series 9 can track critical body vitals such as heart rate, respiration rate and Blood Oxygen saturation and more.
DH Photo/KVN Rohit
The Watch Series 9 also features an all-new 2nd gen UltraWide Band chipset and works great with the latest iPhone 15 and 15 Pro, which also come with the same silicon. The Find My app now offers more precise and new animation, making tracking the misplaced iPhone a fun activity.
Also, if you happen to own a HomePod at home, the new UWB will further deepen the integration of the Apple Watch with the latter.
When a Watch Series 9 owner gets within four metres of a HomePod playing audio, Apple Watch Series 9 will launch Now Playing to control the media. Even if the HomePod is idle, media suggestions will appear at the top of the Smart Stack to start playing music or a podcast.
Despite the additional new functionalities and features, the Watch Series 9 thanks to S9 SiP, manages to deliver a full day's battery life. If you don't exercise for the day, it can last for two days under normal usage. On the second day, the device has to be charged before going to the bed. The owner doesn't have to remember, the Watch itself remind him/her precisely when to charge it long before they normally go to sleep.
This is the kind of intuitive smartness that makes the Watch Series 9 stand apart from other competitors.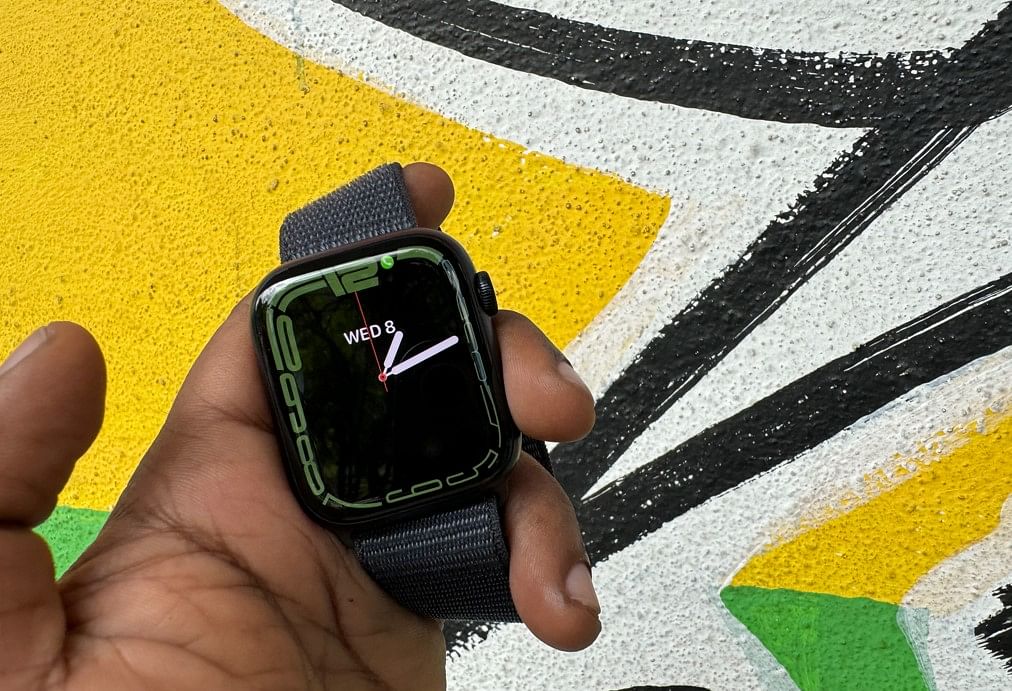 Apple Watch Series 9.
DH Photo/KVN Rohit
Final thoughts
Watch Series 9 comes with meaningful upgrades over the predecessor and there are none in the industry that come close to the intuitive smartness it possesses.
It can precisely track your physical activity and churn out easy to understand statististics with colourful graphics on cardio fitness with VO2 (max), mobility ( walking step length, stair speed and more), sleep data, blood oxygen levels, heart rate variability during walking and resting, are so informative to keep track our health.
Also, it intuitively offers tips on how to complete the activity rings to reach the target of the day. It never comes off as nagging at all.
After every milestone, it splashes visually amazing badges and animated celebrations, which a kind motivate you to carry on the fitness record streak for days, weeks and months.
Given the number of people it has saved around the world, Apple Watches are the best in their class.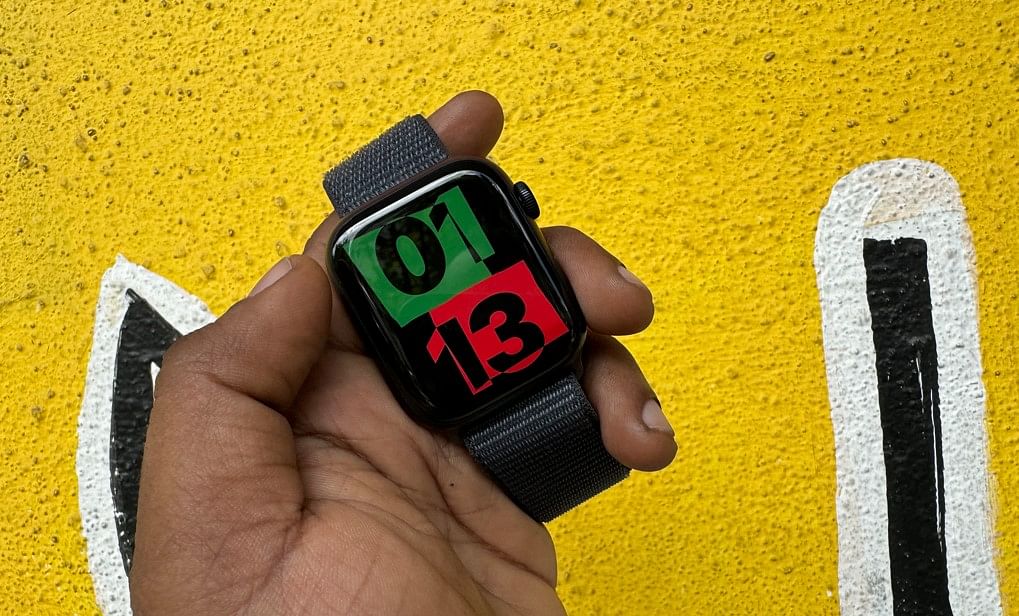 Apple Watch Series 9.
DH Photo/KVN Rohit
With the addition of Double Tap baked into watchOS, operating Watch Series 9 single-handedly has become hassle-free.
And, with Apple offering Watch Series 9 (and Ultra 2, SE 2) in a carbon-neutral option, it makes up for a very compelling reason to buy the latest versions.
This is the best investment one can make to improve fitness lead a healthy life and also reduce their carbon footprint.
Apple Watch Series 9 price starts at Rs 41,900 and the Watch Ultra 2, which comes in single 49mm size costs Rs 89,900.
Get the latest news on new launches, gadget reviews, apps, cybersecurity, and more on personal technology only on DH Tech
(Published 08 November 2023, 14:14 IST)