Technology companies LG, Asus, Reliance Jio and Samsung among others, launched new washing machines, laptops, phones, and more this week (November 6-12).
DH's Gadgets Weekly edition lists the latest personal technology products to keep you abreast of everything that's happening in the world of consumer electronics.
LG WashTower
LG earlier this week introduced the company's first WashTower to India. It comes with dedicated slots for washing and drying in a tall but compact tower design language. It comes in a 24-inch size with 600 mm (W) x 1655 mm (H) x 660 mm (D) dimensions.
It features Auto Sense Artificial Intelligence Direct Drive (Auto Sense AI DD) technology, which is capable of identifying the most suitable washing pattern for particular clothes.
It boasts a TurboWash360 feature that can thoroughly clean the clothes in a mere 39 minutes. And, with the LG Allergy Care cycle, can significantly reduce house dust mites in clothes.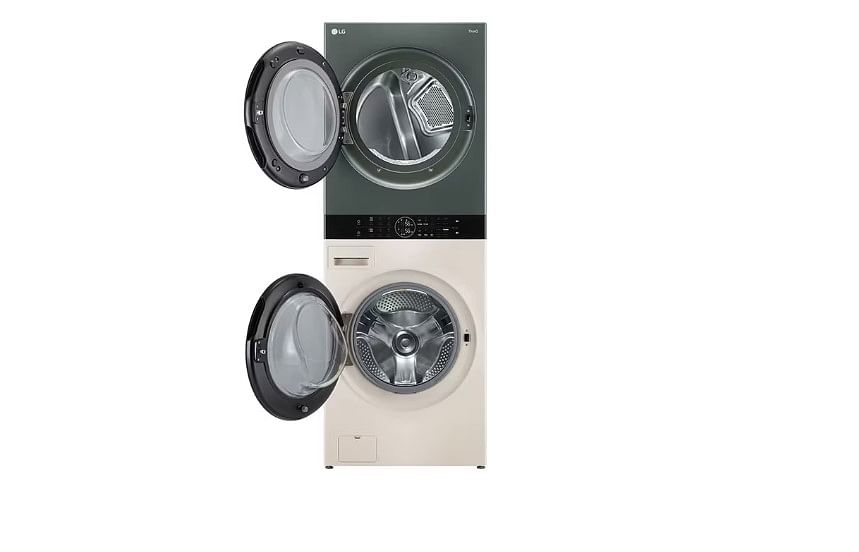 LG's new WashTower washing machine-cum-dryer.
LG India
With the Smart Pairing feature, the dryer's cycle automatically syncs with the washer's settings and makes the transition from washing to drying a seamless process.
The 'Prepare to Dry' option, combined with Quick Wash and Quick Dry, will enable LG WashTower to complete the laundry process in just one hour. It features a Center Control Panel, which offers easy access and control for users.
LG WashTower comes in a Green/Beige colour combination with prices starting at Rs 2,75,000.
JioPhone Prima 4G
It comes with a 2.4-inch QVGA (320 x 240p) display and runs on KaiOS with 512 MB RAM, and 4GB storage (expandable up to 128GB). It also features a 3.5mm audio jack and FM radio.
It also features a regular camera on the back and a 0.3MP (VGA) front camera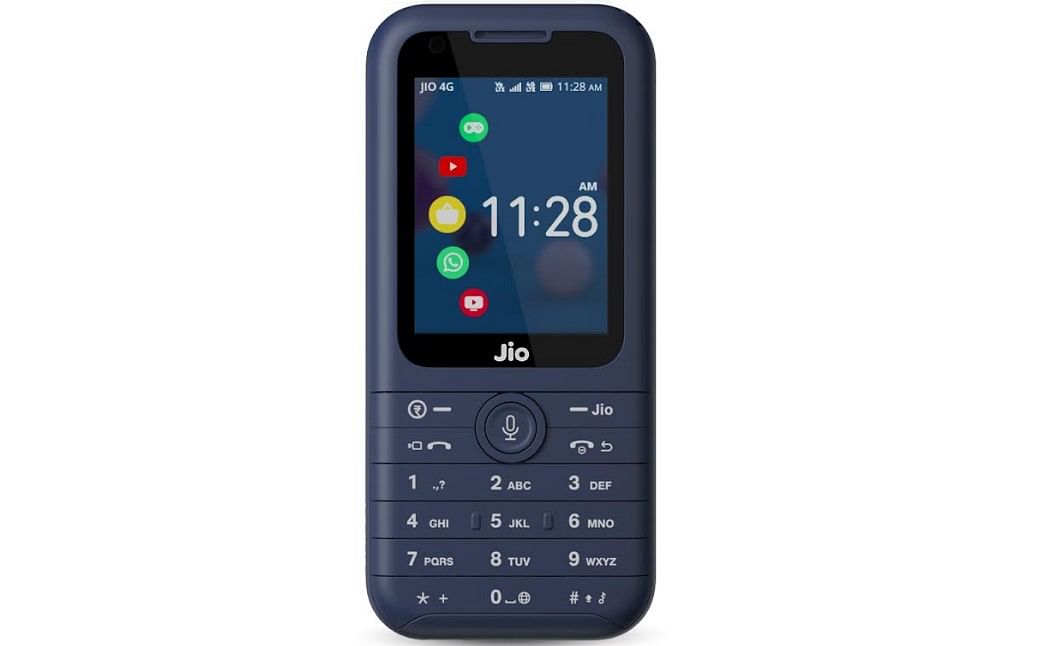 JioPhone Prima 4G phone.
Reliance Jio
Like smartphones, it also supports Live TV via JioTV and allows you to watch movies through JioCinema, and YouTube, listen to music from JioSaavn, and get a daily dose of news through JioNews.
It also supports Google Assistant and users can perform tasks with just voice commands. And, with JioPay, users can transfer money instantly via the UPI payment method.
It is available on Reliance Digital, JioMart Electronics, and Amazon for Rs 2,599.
Promate XWatch-B2
It flaunts a 2.01-inch TFT display in a sturdy case with an IP67 rating and is being offered in three colours–Blue, Black and Graphite. The screen comes with 240x296p resolution supports more than 200 watch faces and can track 123 plus sports.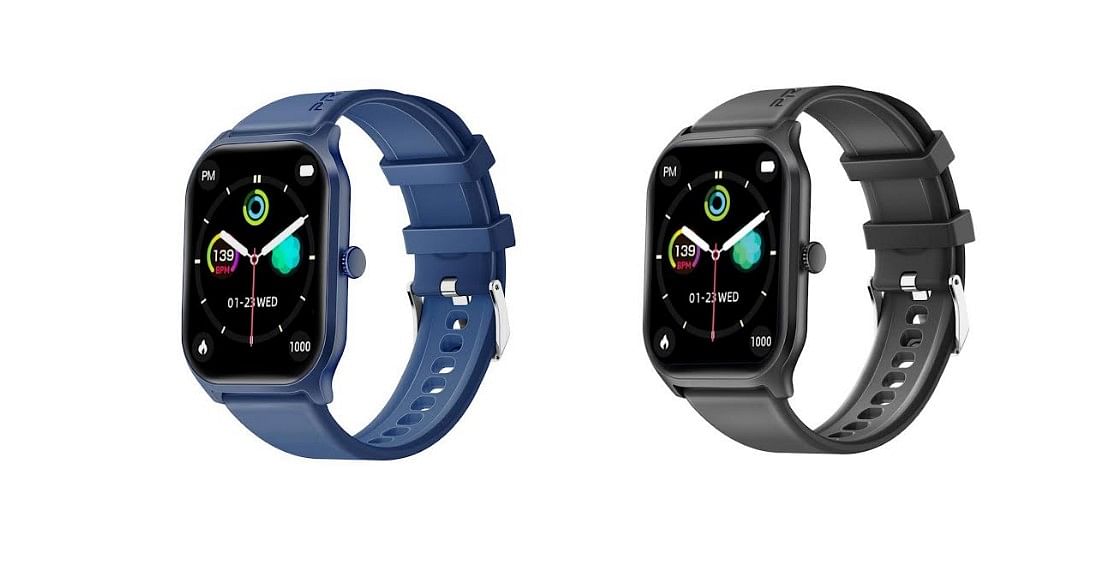 Promate XWatch-B2.
Promate
It houses the ActiveLifeTM health suite, which features multiple health sensors, a built-in pedometer, and enhanced capabilities for monitoring essential metrics, including dynamic heart rate, blood oxygen levels, sleep patterns, and more.
With a full charge, it can deliver up to 15 days with full charge. It costs Rs 2,499.
Apple MacBook Pro and iMac now available in India
Apple earlier this week rolled out the latest MacBook Pro and iMac with the M3 silicon in India.
The new MacBook Pro devices come in— 14-inch and 16-inch- sizes. They sport a Liquid Retina XDR display and support up to 1600 nits of peak brightness for HDR content, impressive contrast ratio, vivid colours, and wide viewing angle.
14-inch MacBook Pro with regular M3 silicon can deliver render performance in Final Cut Pro for up to 7.4x faster than the 13-inch MacBook Pro with Core i7 and up to 60 per cent faster than the 13‑inch MacBook Pro with M1.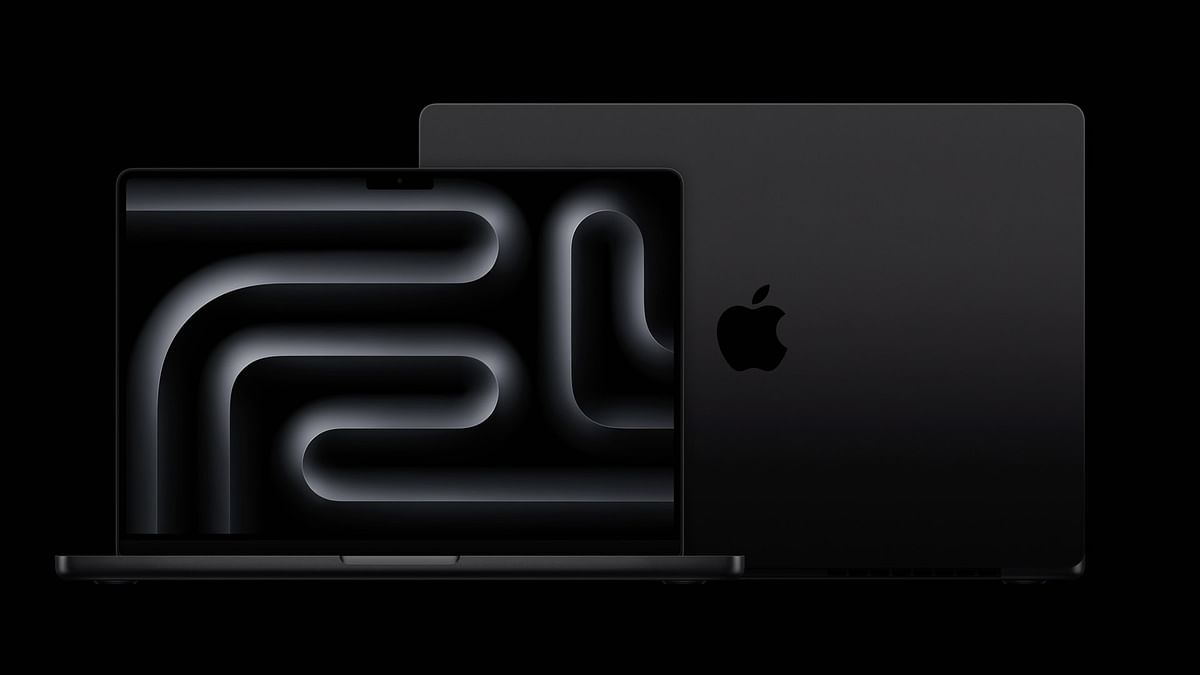 The new MacBook Pro series in Space Black colour.
Apple
MacBook Pro with M3 Max is tailor-made for extreme works that include writing machine learning programs, 3D art development and video editing.
Besides the performance, it promises to deliver a longer battery life. It can last for an additional 11 hours compared to the fastest Intel-based MacBook Pro model.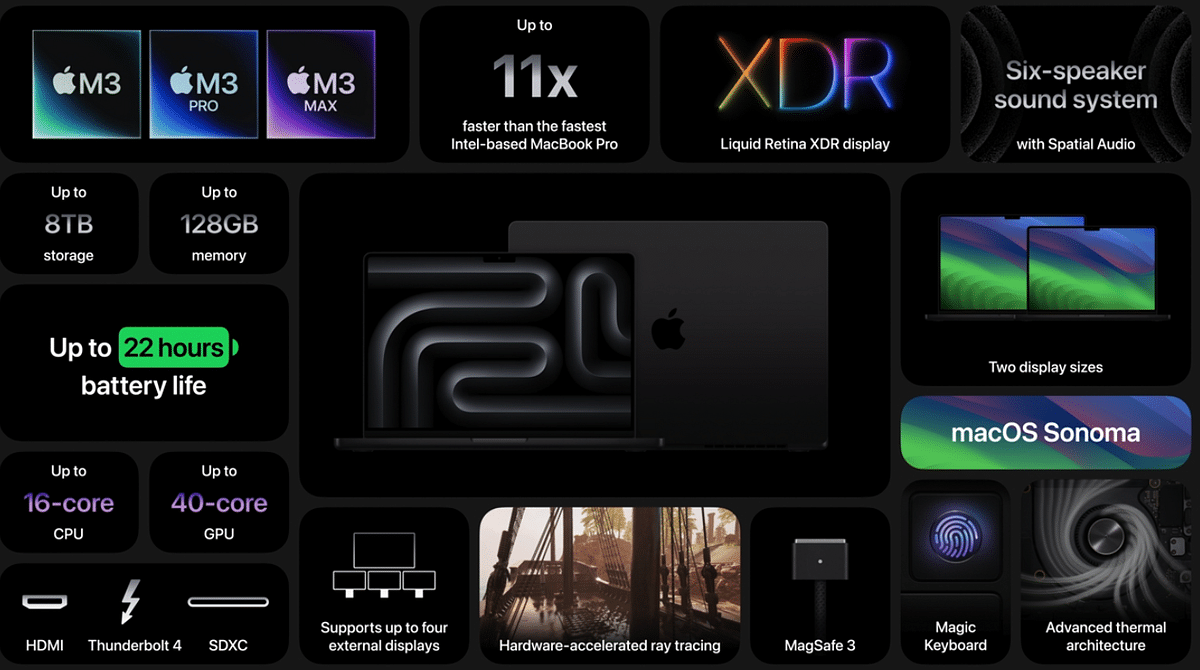 Key features of MacBook Pro.
Apple
The company is offering the 14-inch MacBook Pro with M3, M3 Pro and M3 Max options— with prices starting at Rs 1,69,900 and with an education plan, it can be bought for Rs 1,58,900.
The 16‑inch MacBook Pro will be available in M3 Pro and M3 Max options with prices starting at Rs 2,49,900 and with an education plan, it can be purchased for Rs 2,29,900.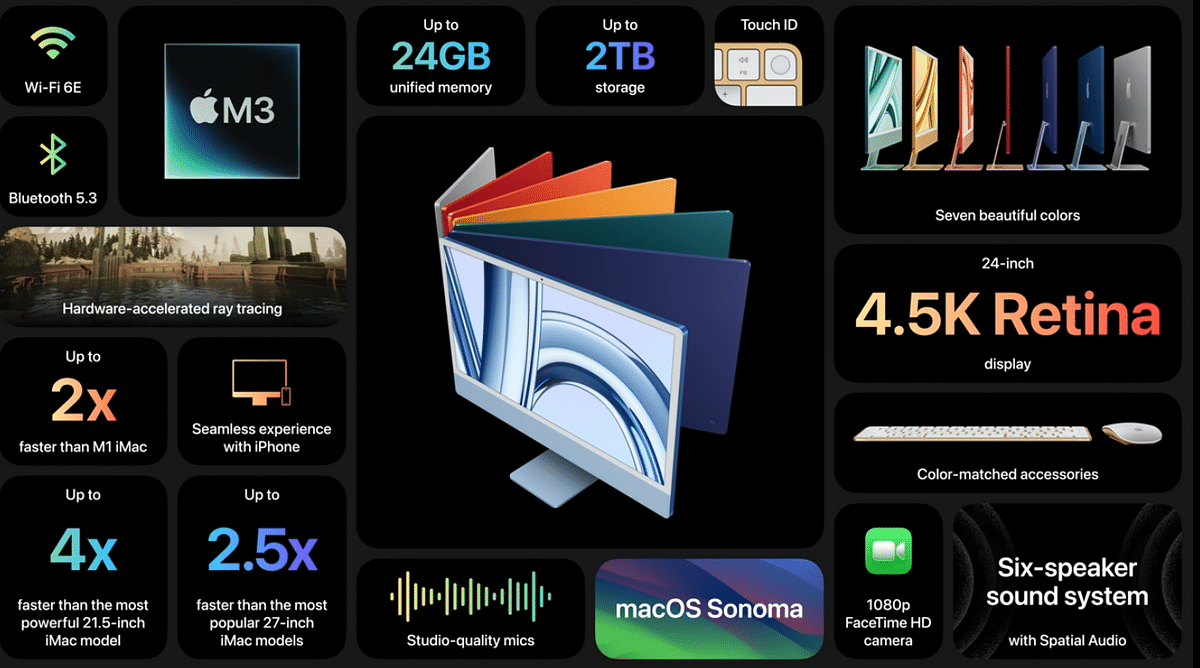 Key features of iMac with M3 silicon.
Apple
The new iMac sports a beautiful 24-inch 4.5K Retina display with 11.3 million pixels, supports P3 wide colour gamut (over a billion colours), and 500 nits of brightness.
Also, Apple's all-in-one PC comes in a slim body measuring just 11.5mm and comes with super thin bezels.
Inside, it comes with M3 silicon. The new iMac promises to deliver 4x faster performance than the 21.5-inch iMac model, and up to 2.5x faster performance when compared to the most popular 27-inch iMac models.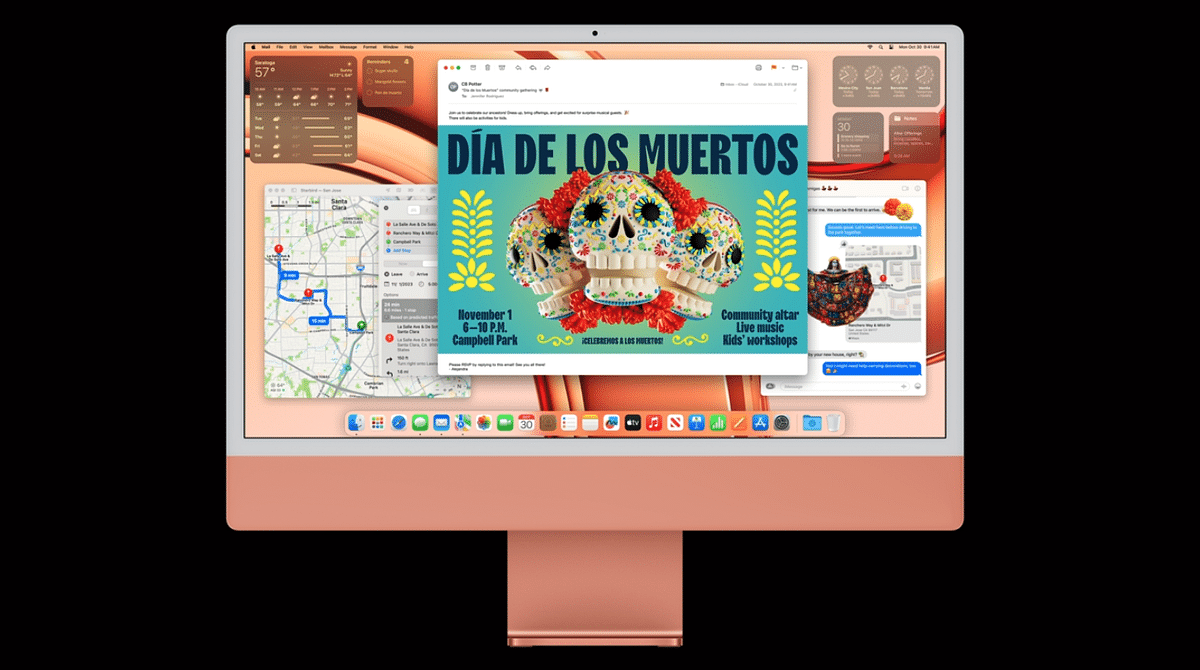 The new 24-inch iMac with M3 unveiled
Apple
The new iMac is available with an 8-core GPU with a price starting at Rs 1,34,900 and with an education plan, it can be purchased for Rs 1,29,900.
Nothing OS 2.5 beta for Phone(2) now live for public testers
The new Android 14-based NothingOS 2.5 beta brings new enhancements to the Glyph interface. Now, the Glyph Progress is integrated with Google Calendar and with this, users can keep track of the upcoming events with a 5-minute countdown.
It also brings new Glyph animation when NFC is in use. The Glyph Timer can now be accessed directly from the lock screen.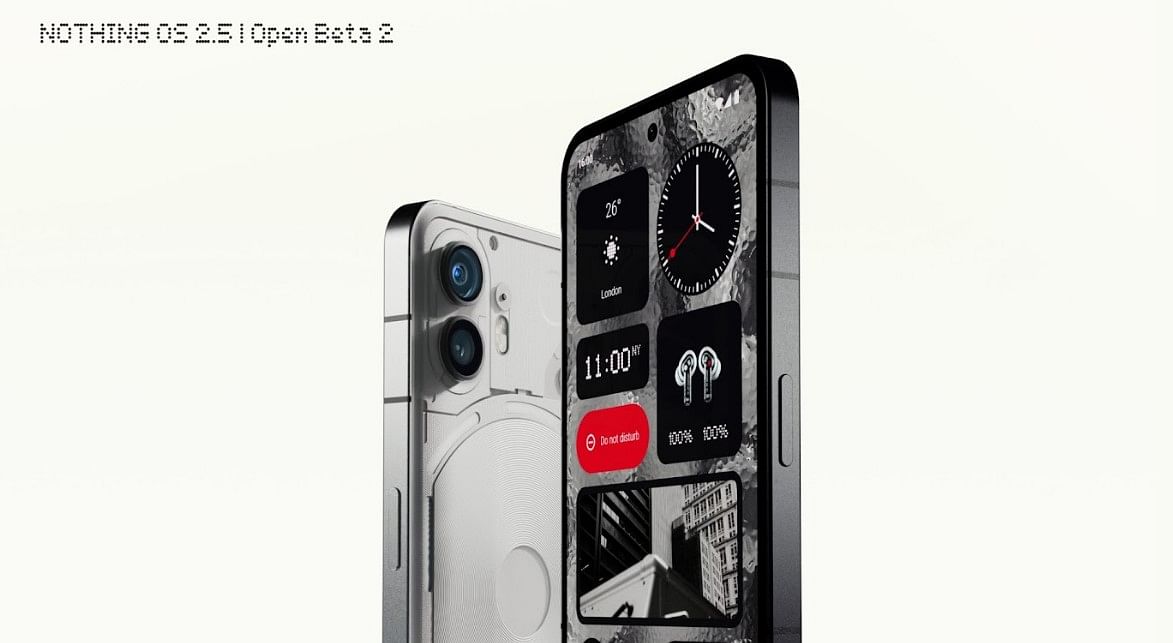 NothingOS 2.5 Open Beta 2 now available to beta testers.
Nothing Inc.
Also, the timer now comes with time presets to quickly set the desired duration and also comes with option to open the pop-up window by tapping instead of holding.
Other improvements include Predictive Back support on all Nothing apps, more options for the double-press power button gesture, and improved reliability of the three-finger swipe gesture.
Vivo opens its largest experience showroom in India
Vivo earlier in the week opened the company's first and biggest experience showroom in New Delhi.
Vivo's big two-floor structure comes with an integrated sales and service store and has a retail area of more than 2800 sqft, offering an all-in-one experience.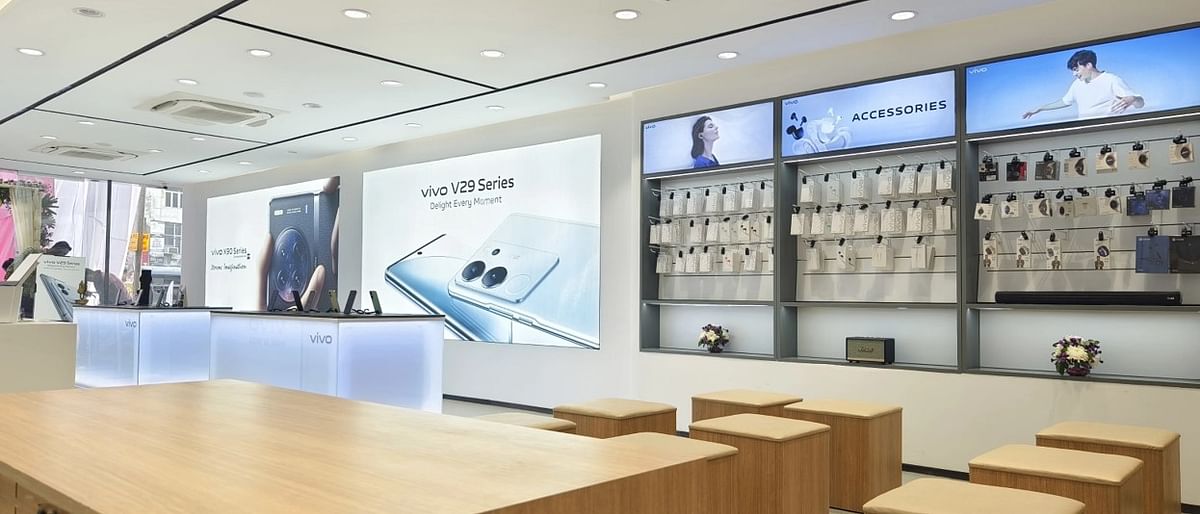 Vivo showroom in Delhi
Vivo
"Our unwavering commitment to our consumers shines through in our experiential stores, epitomized by our latest establishment in Delhi. This store sets a new standard for immersive premium experiences, bolstered by our partnership Kore Mobile, offering top-notch products and services all in one place. Located in the bustling mobile hub of Vikas Marg, Delhi, which draws a vibrant youth demographic, our dedicated gaming and photography zones are geared towards providing younger consumers with a premium in-store experience. We are eager to continue expanding our presence in the region with more of these innovative stores in the pipeline," said Geetaj Channana, Head of Corporate Strategy, Vivo India.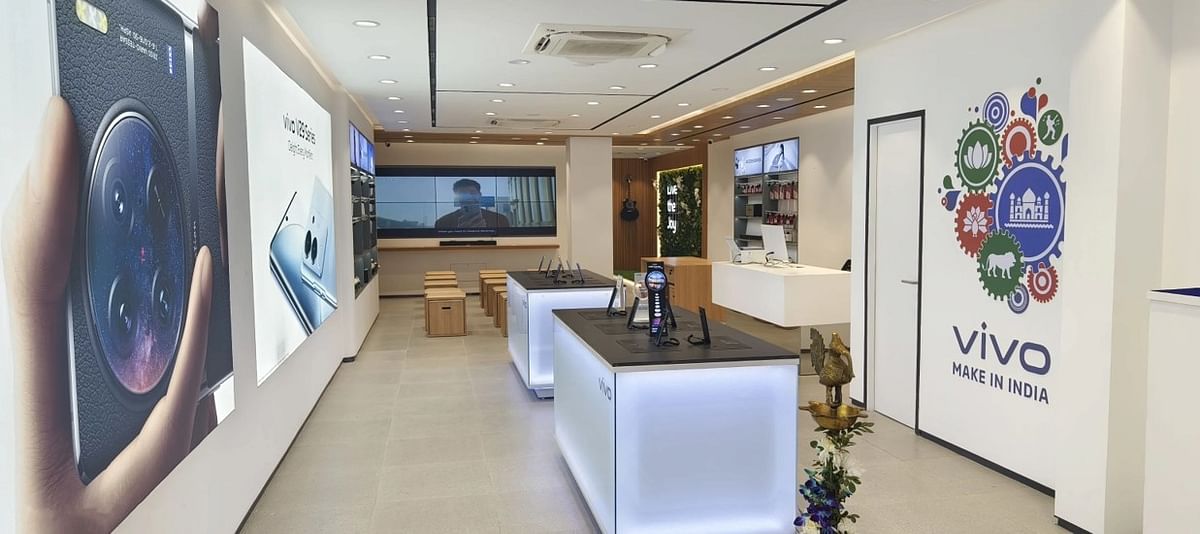 Vivo experience showroom in New Delhi.
Vivo
It also has a dedicated space for a service centre and activity zones for product experiences, consumer engagement, premium services, accessories, IOT, X series gaming, low-light photography, dark zone, and portrait photography.
Consumers will also have an opportunity to participate in special workshops during X and V series product launches to test product key features of Vivo phones.
Asus Expertbook series– B9 OLED (B 9403), B5602CVA, B5402C and B5402F
All the new Expertbooks come with durable cases made of metal with a Magnesium-Aluminium Chassis engineered to survive extreme conditions and have undergone MIL-STD 810H U.S. military standard testing.
The B9 series boasts a 2.8K OLED display with a 90hz refresh rate, 16:10 ratio, and Pantone validation for colour accuracy. It also features a Dolby Atmos system and AI noise cancellation.
It comes with configuration options such as 13th Generation Intel Core vPro processor, Dual-fan cooling, up to 64 GB Dual Channel RAM, Iris Xe Graphics Active, and 63Wh battery with 65W USB-C adapter enabling fast charging.
The Expertbook B5602CVA features a 16-inch 4K OLED (16:10 ) Display with HDR support, 13th Gen Intel Core i7 P-series vPro processor option, Intel Arc A350M discrete GPU (optional), up to 40 GB of blazing fast upgradable Dual Channel DDR5 RAM, Iris Xe Active.
It also supports Dual NVMe SSDs with RAID, and ultrafast Wi-Fi 6E along with Bluetooth 5.3 in addition to Intel vPro support, with TPM 2.0, fingerprint login, IR HD camera, and webcam shield.
The Expertbook B5402C and B5402F come with options– up to 13th Gen Intel Core i7 vPro P-series processors with Iris Xe graphics, up to 40 GB fast DDR5 upgradable RAM, Wi-Fi 6E and support of up to dual 2 TB SSD with RAID 0/1 support.
Add to that, they feature Dual USB-C with Thunderbolt 4 and USB4, triple 4K display output and fast-charging support, full-sized RJ-45 Gigabit Ethernet and HDMI port.
They also come with vPro, TPM 2.0, IR and fingerprint login, webcam shield, AI noise cancelation and NumberPad. They can deliver 12-hour battery life for all-day productivity
Depending on the configurations, new Asus Expertbooks are available in the price range of Rs 1,57,490 and Rs 2,17,990.
Get the latest news on new launches, gadget reviews, apps, cybersecurity, and more on personal technology only on DH Tech
(Published 12 November 2023, 00:25 IST)